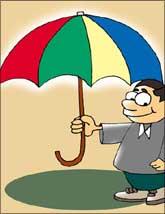 With the tax planning and investment season coming to an end this month, many are running around to get the best of the plans available in the market. Most of the limit available under Section 80C would have been over by now.
Are there other ways to get tax benefits from taking up useful investments/expenses? Yes, there is always the health insurance plans.
Health Insurance Premium: Expense or Investment?
Health insurance premium is technically an expense, as it does not buy any assets. However, it does buy one something more precious than any physical or financial asset - 'Peace of Mind'. We can have the confidence that in case of a medical emergency, there is the insurance plan to take care of the expenses - to a larger extent if not to the fullest extent.
Looking at health insurance from the point of view of stress free living, it is an investment.
Tax Benefit from Health Insurance Plans
Health insurance plans get benefit under section 80D in the form of deduction from taxable income upto Rs.15,000/- for non-senior citizens and upto Rs.20,000/- if senior citizens are covered. But many a times for a normal household with parents under the age of 45 and 2 children, the premiums may not come upto the levels at which one can maximise the Section 80D benefits.
New Plans in the Market
Several companies have come up with plans to meet the needs of those who to have health insurance and also make use of the Section 80D benefit to the full. Companies like ICICI Prudential Life Insurance, ICICI Lombard General Insurance and Star Health Insurance have come up with health insurance plans where the premium is fixed at Rs.15,000 or nearby values. The benefits from the plans in terms of medical cover and number of people covered can be determined as per the requirements of the insured.
All these plans also give cash-back facility for out-patient treatment. Normal health plans do not cover out-patient treatment except for some special surgeries. The out-patient claim per year is fixed based on the number of people covered and also the overall medical cover for the family.
These are useful plans to consider.
Higher Insurance Covers
Companies like United India Insurance and Star Health Insurance have come up with plans one can take very high covers for health (above Rs.5,00,000). These companies are offering such plans as extensions to existing plans from their own companies or any other company.  Supposing Ramesh has a cover for Rs.3,00,000  from a company and has had the plan for the past 2 years, he will not want to shift from that company, as he will get cover for any pre-existing disease form the 3rd year onwards, also he would have got no-claim benefits.
Supposing he wants to increase the cover to Rs.10 lakh now, his original company may not have a plan to give such high covers. This is the place that the new plans come in, they will provide cover to Ramesh for any claim above Rs 3,00,000 till Rs.10 lakh (1 million).
The premiums for these plans are relatively less compared to the base health insurance plans.
Section 80D
Till last year there was not much choice for tax savers to maximise the benefits under Section 80D. This year a number of companies are offering innovative plans specifically for this purpose. It is no doubt that these plans will be useful in the long run. Hope the tax savers find the money to spend on these plans. These are expenses to get an asset called 'Peace of Mind'!