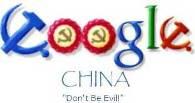 Uncertainty loomed over China operations of the world's leading Internet search engine Google as the company stopped censoring web search results and redirected hunt queries from mainland to an uncensored site in Hong Kong.
The move, which came after months of war of words between the company and Beijing, raised the hackles in China with authorities reacting sharply to the decision and calling the move "totally wrong" and accusing Google Inc of violating promises.
"This is totally wrong. We're uncompromisingly opposed to the politicisation of commercial issues, and express our discontent and indignation to Google for its unreasonable accusations and conducts," official Xinhua news agency quoted an official of the state Internet bureau as saying.
His comments came about two hours after the online search service provider announced it has stopped censoring its Chinese-language search engine Google.cn and is redirecting Chinese mainland users to a site in Hong Kong, a former British colony, now a special administrative region of China.
The Internet titan announced the move in a blog post. The company's chief legal officer David Drummond said while it was ending censorship in China, it planned to keep sales, research and development teams on the Chinese mainland, which has the world's largest web users, set to be numbering more than 384 million.
The tussle between Google and Chinese authorities also echoed in Washington where the White House said it was "disappointed" Google could not reach a deal with Beijing and said US President Barack Obama is "committed to Internet freedom and... opposed to censorship". US National Security Council spokesman Mike Hammer said "the US-China relationship is mature enough to sustain differences".
Drummond, Google's top legal adviser said, "we hope the Chinese government would respect the company's decision, though we are well aware it could at any time block access".
"Users visiting Google.cn are now redirected to Google.com.hk where we are offering uncensored search in simplified Chinese," he said. But within hours, web searchers in China reported being unable to track sites such as "Falun gong" and "June 4" which refer to the Tiananmen square pro-democracy riots in 1989, apparently suggesting that the Chinese had blocked these sites.
The Information official said relevant departments of the Chinese government held talks with Google twice at its requests, on January 29 and February 25 respectively, to hear the "company's real intentions" and the government was sincere in its efforts.
"We made patient and meticulous explanations on the questions Google raised (in the talks), ...telling it we would still welcome its operation and development in China if it was willing to abide by Chinese laws, while it would be its own affair if it was determined to withdraw its service," the official said.
"Foreign companies must abide by Chinese laws and regulations when they operate in China," the official said. Google already said it is considering to close down its Chinese operations all together accusing Chinese government of intrusive censorship of its content, specially that of Chinese dissidents and blamed Beijing for hacker attacks on its sites.
The California-based company is the latest foreign Internet company to founder in Chinese market that is heavily regulated. Earlier, companies like Yahoo, E-bay and Microsoft's MSN instant messaging services have been unable to gain a foothold in the market, where homegrown companies thrive.