The Dubai government will pump in $9.5 billion into the debt-laden conglomerate Dubai World, which submitted its plan to restructure debt worth $23.5 billion to its creditors. As part of its efforts to shore up the fortunes of its own investment arm Dubai World, the government on Thursday said it would infuse $9.5 billion into the entity.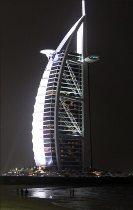 "The government of Dubai will support these proposals with significant financial resources, including a commitment to fund up to $9.5 billion in new funding over the business plan period," Dubai supreme fiscal committee chairman Sheikh Ahmad bin Saeed Al-Maktoum said in a statement. Dubai World's financial liabilities stood at $23.5 billion, as on December 31, 2009.
In a separate statement, Dubai World said it presented a restructuring proposal to the coordinating committee representing the company's financial creditors. "The total amount of outstanding debt held by Dubai World's creditors, excluding the existing Dubai Financial Support Fund's claims, is $14.2 billion as on December 31, 2009," it said.
The government fund would be channeled through the Dubai financial support fund to Dubai World and its arms. In another statement, Nakheel, which is part of Dubai World, said the government has committed to provide $8 billion of "new money" to the unit.
Further, the DFSF would convert its existing $1.2 billion debt claim in Nakheel into equity. Elaborating its restructuring efforts, Nakheel said the plans would enable it to "offer creditors 100 per cent of agreed amounts owed and to fulfil obligations to customers through the prompt completion of near-term projects".
Earlier, Dubai had received $20 billion in emergency funding from its rich-neighbour Abu Dhabi. But this time around there is no funding from the Emirates' capital. Of the total funding to be provided by the government, $5.7 billion is from the loan given to Dubai by Abu Dhabi and rest would come from the Dubai government's internal resources.
According to the government, the latest restructuring proposals would serve the interests of all stakeholders, including customers, contractors, employees and creditors. Regarding the restructuring proposal,Dubai World's chief restructuring officer Aidan Birkett said the plan represents the best possible solution for all stakeholders.
"It follows extensive discussions with our creditors, a thorough review of Dubai World's businesses and significant financial support from the government," Birkett added. Non-DFSF creditors would receive 100 per cent principal repayment through the issuance of two tranches of new debt with five and eight year maturities.
Meanwhile, ahead of a final agreement on restructuring plan, an initial $1.5 billion of the new funds from the DFSF would be made available as required to Nakheel to fund contractors to continue building near-term development projects.