Even as the global economic meltdown is beginning to fade, the world might be in for another crisis -- a currency crisis, a noted expert warned.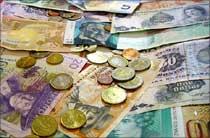 "It is a possibility that the next crisis awaiting the world is a currency crisis," renowned currency expert and non-executive director of Elara Capital, Avinash Persaud, told PTI in Mumbai.
Persaud is the chairman of Intelligence Capital, a firm that advises governments of many G-20 countries on managing their finances and an expert member of the UK government's Treasury group.
"The measures that were taken to bail-out countries from the financial crisis led to a fiscal crisis and a currency crisis can possibly erupt after this fiscal crisis," he said.
The fiscal crisis brought about an increased burden on monetary policy and different countries met it in different ways, he said.
"The US and the UK have no other option other than having weak currencies. In fact, the US has a dollar de-valuation policy," he said.
What India's banking regulator Reserve Bank has done in its exchange (rate) policy is sensible, by using a basket of currencies, he said.
"India actually manages its currency (rupee) against the dollar. Now the country is using a basket of currencies. In fact, we would want to limit the dollar problems. We don't want to import dollar problems -- the RBI is trying to avoid that. It's sensible," he said.
According to Persaud, the only source of growth is to have a weak currency.
While commenting on the European fiscal crisis which almost overwhelmed Greece, he said that the consequence of a collapse would have been very grave.
"The Greek problem has now spread to Spain and Portugal. The European Union is now engaged in trying to save these two countries. The European political directorate is fully conscious about the consequences. They are trying to limit the problem. But while containing this problem a currency crisis might erupt," he warned.
However, the present crisis in Europe may turn out to be a blessing in disguise for emerging economies, he said.
"The fiscal problems in the US, the UK and Greece means there will be a lot of liquidity in the system. This liquidity will lift countries with real assets. It will be good for emerging economies like India," he said.