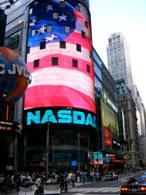 The US economy expanded at the fastest rate in six years, a growth of 5.6 per cent in the last three months of 2009, helped by increased private inventory and business investments.
The final GDP estimate for the December quarter is on expected lines, even though the growth is tad lower than the earlier official projection of 5.9 per cent.
"Real gross domestic product -- the output of goods and services produced by labour and property located in the US -- increased at an annual rate of 5.6 per cent in the fourth quarter of 2009," the US Bureau of Economic Analysis said in a statement.
In the third quarter of 2009, the GDP rose by 2.2 per cent, after the economy shrank for several quarters due to the financial turmoil.
For the full year 2009, the world's largest economy contracted 2.4 per cent, whereas the GDP rose 0.4 per cent in 2008.
The 2009 fourth-quarter GDP growth was mainly fuelled by increased private inventory investment, exports and higher business investments. During the same period, corporate profits climbed $ 108.7 billion.
According to the statement, the December quarter economic growth was revised lower on the back of downward revisions to business investments and personal consumption expenditures (PCE), among others.
Meanwhile, the fall in 2009 GDP was primarily on account of negative contributions from non-residential fixed investment, exports, private inventory investment, residential fixed investment, and PCE.
Ravaged by one of the worst financial meltdowns in decades, the US had slipped into recession -- generally defined as two straight quarters of negative growth.
The Federal government unveiled unprecedented measures, including massive stimulus package to shore up the country's economic fortunes. Even though the economy is growing, thousands of people are still without a job.
Currently, the unemployment rate is more than nine per cent.