Travel loans are easily available, affordable to help you and your family unwind.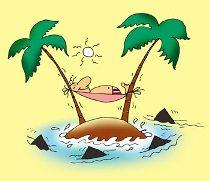 Summer vacations are fast approaching and tour operators are leaving no stones unturned to advertise attractive tour packages for various domestic and foreign destinations. There are packages for every pocket. Many must have already planned their vacation. But if you are not taking a break due to budget constraints, here's how you can quickly plan a vacation:
 
Remember, when planning a vacation, do not do away with funds saved for meeting unforeseen expenses.
 
Work out your budget, first and then evaluate how much extra funds you have to help sponsoring the holiday. If you cannot spare enough from the savings and you still owe a holiday to your kids, a travel loan can rescue you.
 
Typically, a travel loan is nothing but a personal loan. But with increased awareness and marketing by the travel sector, many banks now a days, offer special travel loans. Some of these special schemes are  - State Bank of India's Easy Travel Loan, Bank of India's Star Holiday Loan Scheme and Bank of Baroda's Desh Videsh Yatra Loan.
 
Travel loans promoted by banks are a good way of meeting all your travelling expense like ticket cost, lodging, visa, various taxes and many more.
 
While the loan amount may vary according to your income and repayment capacity, banks mostly offer a minimum of Rs 20,000 to as high as ( Rs 1 million) Rs 10 lakh as loan amount.
 
Travel loans are supposed to be repaid over a span of four years and can be easily obtained. Repayment policy for this loan varies from banks-to-banks in terms of the rate of interest levied on the loan availed. On an average the rate of interest is around 14-16 per cent.
 
When you apply for a travel loan, you are required to submit a copy of your passport for travelling overseas, rail/bus/air tickets, visas, residence proof, consolidated invoice of ticket, insurance costs and passport size photograph. Some banks may ask for some additional documents, but that is bank specific.
 
Salaried individuals need to submit a copy of the latest salary slip and Form 16. Self-employed individuals and working professionals will be required to submit a copy of Income Tax returns for last two financial years and a residence proof.
 
You need to fill an application form available with banks. A nominal processing fee is charged by banks, which may sometimes be waived off.
 
Banks offer some other benefits with travel loans like low processing charges, no administrative charges and security. And, minimal documentation and no prepayment penalties is what all customers look for.
 
Another option is to obtain a loan of maximum Rs 5,00,000 only in case long-term saving instruments like National Savings Certificate, Indira Vikas Patra, Kisan Vikas Patra, policy from Life Insurance Corporation (Surrender Value), are provided as collateral security equal to at least 50 per cent of the sanctioned loan amount. Loan worth Rs 1 million (Rs 10 lakh) is also sanctioned by submitting the same collateral security but the collateral amount should be equal to 100 per cent of the loan amount.
 
As personal loans are unsecured loans, the rate of interest levied is higher. But, if you are mortgaging long-term saving instruments, you can get a better rate of interest. 
 
So, no matter which profession you belong to, whether you are salaried, working professional, self-employed, high net worth individual, agriculturist or pensioner, you are eligible for travel loans. 
 
In short, travel loan is a financially smart decision as it will not only improve your credit score with good payment history but will also help you take a break from work by allowing a monthly payment of the expense you incurred on the long cherished vacation.
 
The author works with ApnaPaisa.com.