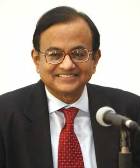 Having shrugged off the impact of the global economic crisis, India appears poised to overtake China's high growth rate in the next 10 years, feels Home Minister P Chidambaram.
"While the last decade was remarkable and exciting, this decade will be more exciting for India. There is more possibility that India could overtake China's growth rates," he said at a Business Standard-organised function in Mumbai on Tuesday night.
China, world's sixth largest economy, has recorded an average nine per cent growth over the last two decades, while India has seen growth touch nine per cent only in the three years till 2007-08. But the global financial crisis ate into this progress and growth slipped to 6.7 per cent in 2008-09.
The Planning Commission, at its meeting chaired by Prime Minister Manmohan Singh earlier this month, scaled down India's growth target for the 11th five-year plan period (2007-12) to 8.1 per cent from the previously estimated nine per cent.
"We are young and will continue to grow...corporate India will continue to grow in the current decade. The young CEOs and executives must help to take India to the next level," Chidambaram said.
The minister's confidence also stems from the fact that foreign direct investment inflows -- key to growth -- have been increasing rapidly, although they slowed during 2008-09 at the height of the financial crisis.
Chidambaram also said that India 'will become a part of the United Nations Security Council in this decade' and added that there was a urgent need to make India a secure place so that the country's economic growth remained unblocked.
"There was a fear...but it is over. We are marching ahead to compete with others in every aspect," he said. Chidambaram said human resources will not be a burden for India in this decade--rather they will count as assets.
The home minister said people must be conscious of the fault-lines that have emerged in Indian society.
"Race versus race, religion versus religion, sect versus sect, language versus language, caste versus caste are the root lines of these fault-lines," he said.
The home minister said the challenge before the government was how to govern a country like India with such rich diversities.
"I believe that good governance lies in finding ways and means to erase such fault-lines to a great extent and build bridges among people who find themselves on the either side of the fault-lines. The only way forward is acceptance, accommodation and above all affirmative action," he said.
Referring to the demand of quota by different communities, the home minister said reservation was perhaps the most effective instrument of affirmative action.
"If there is a better instrument we should certainly debate that instrument but I believe that reservation is perhaps the most effective instrument that we have today," he said.
Chidambaram said the debate on reservation is an ongoing debate -- what are the limits of reservation, what are the opportunities that are being thrown open by reservation, what are goals that can be achieved through reservation.
The debate will not end soon, he said.
He said reservation has three aspects -- the first is the issue of reservation for socially, educationally and economically backward classes which are sanctified in the Constitution, the second is the desirability and need for compartmental reservation and the third is the ceiling on reservation as placed by Supreme Court.
"I think the debate on reservation must take into account all these aspects and we must find ways and means by which reservation can be used as an instrument to advance affirmative action," he said.
Image: P Chidambaram