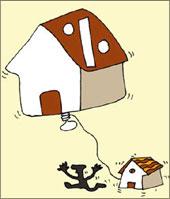 Looking for a house? Do you have a budget in place, which will ensure that you look for a house that is well within your means?
If not, start the process now, as buying a house is a big investment, having financial repercussions for years to come.
How do you prepare a budget? Analyse your current financial situation to determine available resources. You need to answer questions such as, how much cash will you have at hand for a down payment? Also, you would want to know the quantum of housing loan you would be eligible for? After all, how many of us can buy a house today without a housing loan? The housing loan amount will be the critical factor determining your budget. Want to guage the actual quantum of loan the bank will provide you with? Look for 'pre-approved' housing loans.
What is a pre-approved housing loan?
It is essentially an in principle sanction given by a bank for a particular loan amount. A fairly robust process is followed by the banks to determine the loan amount.
They will require you to submit a lot of information such as income tax returns, bank account statements, income proof, salary slips, identity proof, and Pan details among various other things. Banks will also obtain data from CIBIL to check the credit history of the individual.
Once the checks are in place and the bank pre-approves the loan, it will hand over a letter stating that an in principle approval of a particular home loan amount has been granted and will be valid up to a particular period.
Some banks will also state the rate of interest at which the loan will be provided, the rationale being the interest rate at the time of pre-approving the loan should be applicable.
Please note that the pre-approved loan is valid only for a particular period- in most cases it is six months, post which the individual will have to go through the process again.
Once a loan has been pre-approved, does it mean the bank is obligated to provide the loan?
The bank is not obligated to provide the loan as banks clearly state that the in principle approval is subject to verification of property documents and the property itself.
Does it come free of cost?
Several banks do charge a pre-approval loan processing fee which is refunded if the loan is taken, on the other hand some banks do not charge any fee.
What advantages does it offer?
1. Ensures that you narrow down your home search
Getting a loan pre-approved will help you to target a house that is within your budget. This will prevent you from straying- houses bigger than your budget will automatically be eliminated.
2. Greater negotiation power
A pre-approved loan will make it clear to the seller that you are a serious buyer and also assert the fact that you have the financial means to close the transaction. Thus he will be willing to offer you a discount or some additional benefits so that the deal is sealed.
3. Credibility with real estate agents
Given that the agent will earn commission on the transaction, he will put in extra efforts as he knows you are a genuine buyer.
4. Quicker loan disbursal
Processing of the loan application will take place at a much quicker pace if the loan is pre-approved. This ensures that you save time. Many a time, individuals have lost out on good houses, because they were not able to garner resources in time.
If you want to make sure that you do not want to lose out on a dream home due to external factors like running short of time, awaiting the loan sanction etc., you could opt for a pre-approved home loan, to ensure a smooth home purchase process.
Do evaluate your exact need before you opt for a pre-approved loan, it should not be a scenario where you are unable to locate the house of your choice for purchase within the stipulated period of six months. If the bank charges a processing fee, then that would be an incurred loss for you.
Also, interest rates might change depending on market conditions during the time of the actual loan disbursal, which will not happen until you zero in on the property and the property documents are verified by the bank.
Opting for a pre-approved property with a pre-approved loan might enable a quick home purchase process, the pre-approved status for your loan asserts your credibility and repayment capacity while the same for the property indicates the credibility of the builder.