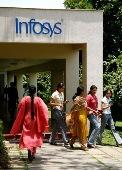 A top Infosys official warned on Friday that if currency volatility is not controlled by Reserve Bank of India through steps to curb speculative FII funds, it would kill the country's whole export industry.


". . . I think RBI has to step in at some point in time because this kind of volatility is unsustainable," chief financial officer of the Bengaluru-headquartered company, V Balakrishnan, said.


"We have seen (Indian) currency going to 52 (vis-a-vis dollar) and coming to 39 again going to 52. It will kill the whole export industry," he said.


This currency volatility is also a problem faced by countries such as Brazil, Korea and Thailand, which are putting up restrictions by increasing taxes to stop speculative inflows into their country.


India received close to $22 billion of FII money in the last six months, according to him. "This kind of inflows which are speculative, while at the same time having a large trade deficit, is not sustainable".


Balakrishnan said RBI now has no choice but to intervene at some time to see that quality of inflows are managed well so that the volatility is decreased.


"You have to control the quality of inflows. You have to make sure that the rupee is at a reasonable level".


He pointed out that India's trade deficit per month is $13 billion while that of the US, which is 13 times bigger than it in terms of economy, is $43 billion.


"So, this kind of trade deficit is not sustainable".


Noting that the countries such as Japan, Korea and Brazil are curbing speculative inflows, he said RBI has to do it as well.


"If I am RBI governor, I will do it now".


Earlier, Infosys CEO and managing director S Gopalakrishnan noted currency volatility to the tune of ten per cent to 15 per cent within a quarter and said it's difficult to operate in such an environment.