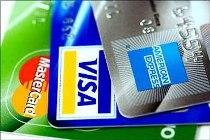 A credit card offers convenience and safety along with well packaged privileges and benefits.  Here is an overview of various credit card types offered by banks.

Premium Card: These cards offer cash back, reward points  to cardholders. Premium credit cards like gold and platinum cards have higher credit limit, a personal assistant service to assist the holder anytime of the day apart from other offers like comprehensive worldwide travel insurance for you and your family, access to exclusive airport lounges worldwide etc. This varies from bank to bank. 
Target group: High networth individuals (HNIs) and top management of companies.
Cash back credit cards: When accepting payment by credit cards, merchants typically pay a percentage of the transaction amount in commission to their bank or merchant services provider. Many credit card issuers share the commission with the cardholder by giving the card holder points or other offers like air miles or a monetary amount. Card holders typically receive between 0.5 per cent and 2 per cent of their net expenditure (purchases minus refunds) as an annual rebate.
Target group:  Salaried class, women
Secured credit cards: A secured credit card is a type of credit card secured by a savings account owned by the cardholder. Typically, the cardholder must deposit between 100 per cent and 200 per cent of the total amount of credit desired. The card holder has to make payments like in case of regular credit cards, but in case of defaults, the bank can recover the cost of purchase from the deposit. This card would be beneficial for customers with poor credit history.
Target group: Students, people with low credit rating
Business credit cards are available for business owners and executives. Apart from same features as traditional credit cards, they come with additional benefits such as low introductory rates, cash back programs and airline rewards. They provide business owners with an easy method of keeping business and personal transactions separate. Card holders are also provided bonuses like expense management reports, additional cards for employees, higher credit limits, cash back facility etc.
Target group: Corporate houses
Prepaid credit card is not a true credit card since no credit is offered by the card issuer Prepaid cards work on the theme of pay now and use at your convenience, very similar to prepaid mobile phone cards. One has to buy a card, load it with the desired amount and the card is ready to be used. One does not require any account to use these cards. Some variants of prepaid cards allow the user or a third party to load and re-load value into the card. This helps the holder to keep a track of expenses. There are no interest charges but a purchasing fee plus monthly fees.
Target group: Salaried class, parents who want it for their children.
Airline Credit Cards: These credit cards are one of the best saving cards for regular travellers as they cut cost of the travel by using a credit card that lets one earn points that you exchange for flights. The points can also be gained by shopping at certain places. The points can be exchanged for rewards, which may include free flights, hotels and cinema tickets etc. If one earns huge points, then one can also get a free airline ticket to travel to a destination of your choice. However, these cards are not for everyone. Not all spending on the card will earn the Airmiles. However, there are hidden costs eg: if the flight is free, but any applicable taxes, fees and surcharges have to be paid. Also such cards tend to have an annual fee.
Target group: Frequent travellers, corporates, businessmen
Cobranded credit cards work on brand partnership, when two companies form an alliance to work together, creating marketing synergy. For e.g. : Citibank credit card and Shopper's Stop have an alliance. They are credit cards, which are associated with particular airlines, travel or retail outlet. These cards can be used just like regular credit cards but they also offer benefits to users of the relevant product like frequent travel points and special discounts.
Target group: Teenagers, women
Do your homework and research features, hidden costs, interest rates etc. before you choose a card that is ideal for you.