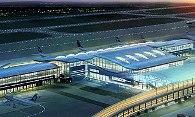 Air travellers departing from Hyderabad's Rajiv Gandhi International Airport will soon need to fork out much higher User Development Fee (UDF) with the regulatory authority allowing airport operator GMR to hike the rates from November 1.

The hike will make the UDF charges here higher than any other international airport in India and also some of the prominent airports in the world.

GMR Hyderabad International Airport (GHIAL) which operates Hyderabad airport presently charges Rs 350 for domestic and Rs 1000 for international departures.

The Airports Economic Regulatory Authority (AERA) has allowed it to charge Rs 420 and Rs 1,656 respectively, excluding taxes, effective November 1 though on an ad hoc basis, according to consultation paper issued on UDF hike by AERA.

Incidentally, GHIAL had sought permission from the AERA to charge Rs 500 for domestic and Rs 2,825 for international departures excluding tax which was not granted.

The AERA while allowing the Airport operator a hike in the UDF has also sought Comments and submissions before October 7 from stakeholders.

"The hike is purely on an ad-hoc basis, with effect from 1st November, based on the traffic figures for the period 2008-09 to 2013-14. This ad-hoc determination would be reviewed at the stage of tariff determination for the first cycle and thereafter at such intervals as the Authority may decide," Sandeep Prakash, Secretary AERA said.