Futuristic innovations from a college dropout!
Last updated on: July 14, 2010 20:38 IST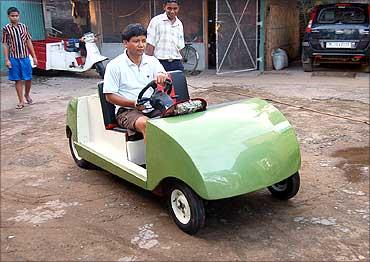 You can zoom, at a maximum speed of 120 kmph, in his car that runs on compressed air!
You can also ride a cycle without pedalling or drive a solar-gas hybrid car...all you have to do is visit a small garage in Assam.
Kanak Gogoi, a modest innovator who has studied only up to class X, has spent years making these futuristic vehicles.
A low-cost flying machine, which can carry people, is Gogoi's dream now. The self-taught innovator is confident that it won't be long before this dream too comes true.
As a boy, he had to bunk classes and go into hiding to build on his innovative ideas. His first innovation was an air gun which he made at the age of 10. The trigger for this serial innovator was a real gun at his uncle's place. The gun fascinated him. But when he tried to hold it one day, he was thrashed soundly. So he made up his mind to make a gun and, did it.
The zeal to innovate grew as he went on to develop a range of exceptional vehicles -- a 'gravity-operated' cycle, Trygo X (a three-wheeler), Kanso hybrid car, a compressed air car and a metal speed breaker that can produce electricity (Read about all these amazing innovations in the following pages). All these innovations without any formal training....
Click NEXT to read more on Kanak Gogoi's innovations and success story...

To get in touch with Kanak Gogoi, e-mail at kango9000@yahoo.com or call him on 91-98540-31706
Futuristic innovations from a college dropout!
Last updated on: July 14, 2010 20:38 IST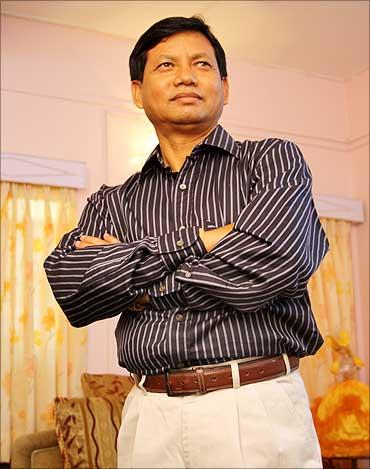 "After clearing my 10th standard examinations, I joined college but had to soon drop out. Circumstances were not favourable for me to study. I gave up studies and started a milk supply business," says Kanak.
He did odd jobs in mechanical workshops. Soon he realised that he had a great affinity towards mechanics and machines. His mind was brimming with ideas that he could work on to create cost-effective solutions for people.
He realized that if he worked hard he could earn money to fund his innovations. So Kanak started a small garage at his home in Mathura Nagar, Guwahati in 1996. His only ambition was to make cheaper and innovative products that would make a good impact.
Starting with a hang glider in 1997, his innovations continued to grow silently in the small garage. It was hard work for Kanak who has spent many sleepless nights, skipping meals, trying to get things fixed. He still continues to do so. However, he was never complimented for the hard work and efforts.
Instead, people thought there was something really wrong with him.
Click NEXT to read on...
Futuristic innovations from a college dropout!
Last updated on: July 14, 2010 20:38 IST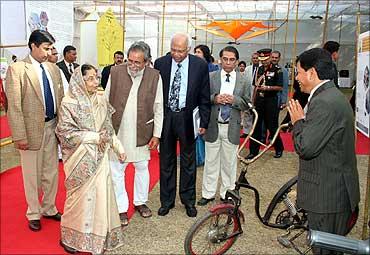 Initially, Kanak wanted to commercialise his innovations. But he realized that he will only be wasting time in the process.
"In our country, innovators like me hardy get any recognition. My innovation came to the limelight only because of the efforts of the National Innovation Foundation. I have not received any support from anywhere else," he says.
The government had agreed to help him start an innovation centre in Assam, but nothing has happened yet.
Most of the engineers he met could not guide him. Instead, often they discouraged him.
"Sometimes, I feel if I had studied, I would have become a stereotype like most of the engineers. I would have followed just the theoretical knowledge and ended up doing a routine job. Most of the engineers still follow textbooks and lack confidence. When will people start thinking on their own?" he asks.
Click NEXT to read on....
Futuristic innovations from a college dropout!
Last updated on: July 14, 2010 20:38 IST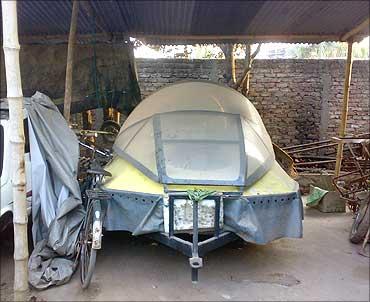 Criticism came from all quarters, but he was undeterred. While people remarked about his callous attitude towards 'wasting time and money to achieve nothing', Kanak was least bothered.
He went on with his experiments, never thinking much about their commercial success. However, he had to earn well to take care of his family. He finally found a job as a civil contractor.
The work involves supplying materials for building bunds on river banks to prevent floods. "I am happy with what I am doing. I do not have financial constraints now. And the job gives me a lot of free time to focus on what I really want to," says an optimistic Kanak.
Click NEXT to read on...
Futuristic innovations from a college dropout!
Last updated on: July 14, 2010 20:38 IST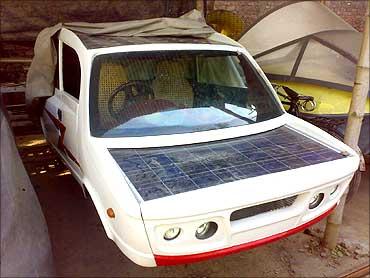 Kanak Gogoi's innovations are mind-blowing. For a person who attributes his knowledge to 'experience' and 'observations', these products are path-breaking.
The 'gravity-operated' cycle has a provision to harness the repeated downward movement of the rider on a spring-loaded seat. This would charge a spring that would release the energy and make the cycle move without the need to pedal too much.
Another vehicle is the Trygo X, built as a gift for his 9-year-old daughter.
The vehicle can move easily in traffic or a narrow lane and can travel at 60 km per hour and has an average mileage of 30 km per litre.
Next is the Kanso, a solar-gas hybrid car that runs on solar energy and can travel around 70 km on battery as well as petrol. This car, without gears, has a 100cc engine powered by four solar panels generating 320 watts of energy. The battery charger is hybrid.
During the day, the battery can be charged by solar power and at night or in emergencies, the battery can be charged by the fuel.
Click NEXT to read on...
Futuristic innovations from a college dropout!
Last updated on: July 14, 2010 20:38 IST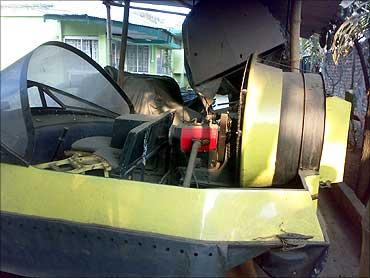 Among his creations, he loves the compressed air car: This is a car with a unique arrangement -- an integration of motorcycles and Maruti car engines, and run on compressed air. Kanak claims to get a maximum speed of 120 km per hour in this car.
It has low-maintenance cost and does not need an air-conditioning system. It generates cool air as you drive along, he says.
Another vehicle is a retrofitted rickshaw with a differential that enables each driving wheel to rotate at different speeds, while supplying equal torque. The low rolling resistance and its light weight make the vehicle energy-efficient and comfortable to drive and handle.
A thinking machine, Kanak Gogoi's innovations also include: A powered hang glider using a 2-stroke motorbike engine, an aeroboat (shallow bottom boat propelled with an onboard aero-propeller), an amphibian boat using an onboard aero-propeller, a water bicycle, a treadmill bike; and a Kontilo 5.5 hp mini tractor for ploughing, tilling and rural transportation.
Click NEXT to read on...
Futuristic innovations from a college dropout!
Last updated on: July 14, 2010 20:38 IST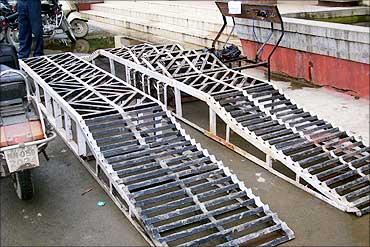 The Indian Institute of Technology, Guwahati has developed the prototype of Gogoi's aeroboat that can travel on just four inches of water.
The institute has also checked his innovative prototype of a speed breaker that can produce electricity based on the principle of converting potential energy into kinetic energy.
"This speed breaker can be laid across highways or any busy road. But till date it has not been implemented anywhere," Kanak said.
A hybrid car manufacturer based in North Carolina, USA, had sought Kanak's help to build a hybrid car. "I was offered food, accommodation and $1,000 per day for a period of 18 months for my service, but I turned down the offer as they said I would not have any rights on the product," Kanak says.
 "The Massachusetts Institute of Technology had also offered to help me set up a lab but it did not work out, either."
Click NEXT to read on...
Futuristic innovations from a college dropout!
Last updated on: July 14, 2010 20:38 IST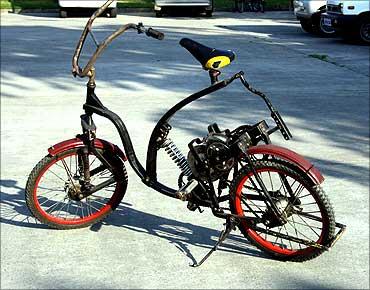 K
anak Gogoi shares his experience of being an innovator and what he plans to do in the years ahead.
Why did your start your own business instead of focusing on innovations?
We had lot of financial problems. So I wanted to make money and be independent. After being in the milk business, I started a signboard business which worked well. I did not need any capital for this.
By making a small signboard, I could make Rs 300. It was good money. After I started working hard, I always had enough money. But this money was never enough to fuel my innovations.
How supportive were your parents?
My parents wanted me to be a doctor. They were very disappointed with what I was doing. Unfortunately, my father passed away before he could see what I had achieved. My mother is too old to really understand what I have done.
What kind of constraints did you face?
The main constraint was money and infrastructure. Since I spent a lot of money on working on my ideas, I had no money for household expenses or pay for my children's school fees.
Whatever money I made, I used to spend on buying spare parts and equipment to build on my ideas. I used to have a difficult time at home as I could not manage my household expenses. We used to have fights too at home. It was really a tough life.
Click NEXT to read on...
Futuristic innovations from a college dropout!
Last updated on: July 14, 2010 20:38 IST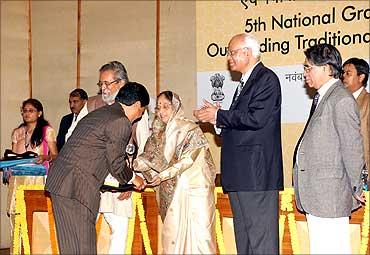 How many products have you designed and which is the best one according to you?
I have built about 13 products. I like the air compressed car the best. I spent about two-and-a-half years on making this car. It is a very efficient car that is ideal for a country like India. It is better than an electric car.
Electric cars have to be recharged and cannot run on long distances. This air car can be easily refilled at any petrol pump and does not pollute at all.
Did you approach any company for commercialising any of the vehicles?
I had written to Tata Motors about the air-compressed car. They said they will talk to the chairman and revert, but nothing happened.
However, I have no regrets. The happiness and the satisfaction I have today are priceless. My ambition is not to make money. I am happy with what I have.
However, I do hope if these innovations are made commercially viable, we can improve our transport systems cost-effectively. It will benefit thousands of people.
Click NEXT to read on...
Futuristic innovations from a college dropout!
Last updated on: July 14, 2010 20:38 IST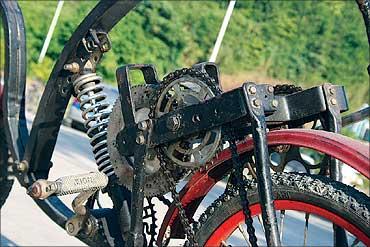 How much money have your spent on these innovations? How much did you spend to make the air-compressed car?
The time I have spent on these innovations is the most precious. I have not kept a tab on all the expenses. But I am sure it is runs into crores (millions) of rupees. All my savings have gone into making these machines.
For the air car, I spent around Rs 15-20 lakh (Rs 1.5-2 million). But considering how much research labs spend on developing a prototype, this is much less.
However, with the right kind of research, people and infrastructure it can be built in a cost-effective manner.
You had gone abroad to attend a conference. How was the response there?
Yes, NIF took me to attend a conference in Chicago. People think ahead of our times. No wonder they are developed and are ahead of us.
They also have time to listen to us. They are receptive to new ideas and are willing to help, unlike in India where there is total neglect.
People there are willing to give you a new direction, whereas in India, people try to misguide and disturb you.
Click NEXT to read on...
Futuristic innovations from a college dropout!
Last updated on: July 14, 2010 20:38 IST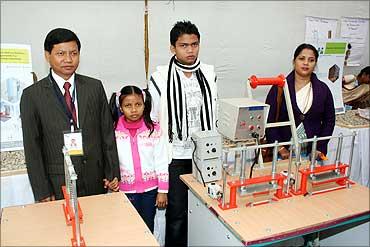 How can we promote innovation in India?
There is more interest in innovation than ever before in India. The atmosphere has been created. We must have a strong independent organisation with no government control to promote budding innovators. If we have the time and money, we can make significant contributions.
Innovators must not be scared to take risks. They should be confident to experiment and test their ideas. If they do not try, their idea will always remain an idea.
What do your children think about your innovation? Do they show interest in your work?
My children love my work. When I dropped my daughter to school in the Trygo X car, it was perhaps her happiest day and mine too.
I find that my children have the curiosity to explore and learn but I have advised them to concentrate on studies, build a good base and focus on their interests.
There are free to pursue their interests. I will not compel them to focus on any profession.