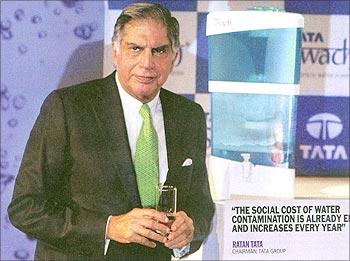 Nearly 4 million people in India are affected by water-borne diseases every year. As many as 400,000 children die from diarrhea every year. According to a 2007 United Nations report, half of the world's hospital beds are occupied by patients who suffer from water-borne diseases.
In India, such diseases cause more than 1.5 times the deaths caused by AIDS and double the deaths caused by road accidents.
These are depressing numbers indeed. But they also suggest a need gap -- water purifiers. So far, water purifiers have been used in middle and upper class homes, though water-borne diseases affect all income classes.
The cost of water purifiers -- acquisition as well as maintenance -- has been too steep for poor households. But that could change now. The Tata Group has launched what could be the world's cheapest water purifier at price points of Rs 749 and Rs 999.
The genesis of Swach -- 'clean' in Hindi -- began nearly a decade ago as a corporate social responsibility initiative of Tata Consultancy Services, India's largest information technology company.
Between 2000 and 2003, the company launched a water filter called Sujal and distributed it among several NGOs (non-government organisations). When the tsunami ravaged parts of coastal south India in 2004, these water filters were distributed in the affected regions.
Nano filters
The offtake was brisk because the product worked well. That's when the company sat up and took notice. Was there a commercial opportunity in water purifiers? That was also the time when Tata Motors was working on its ultra low-cost car, the Nano. Could it do a Nano in water purifiers?
Soon thereafter, Tata Chemicals, Tata Consultancy Services and Titan Industries got together to take things to the next level. The result is Swach.
Scientists working on the project have used rice-husk ash and silver nano-particles to filter out the bacteria and other germs. The filter was made by Tata Consultancy Services, Tata Chemicals did the silver nanotechnology and Titan created the precision machine tools to make the filter.
"We see this as an opportunity to provide solutions to the have-nots," says Sabaleel Nandy, the head of the water purifier business of Tata Chemicals. As a result, the purifier does not require electricity; instead it runs on a replaceable cartridge with a shelf life of 3,000 litres. This would last a family of five for approximately 200 days.
For its part, the Tata Group maintains that the move is a philanthropic one. At the launch, Chairman Ratan Tata said: "Safe drinking water is the most basic of human needs. The social cost of water contamination is already enormous and increases every year." Still, Swach is not being sold at a loss. In other words, it is more than just charity.
There is, to be sure, a keen sense of business as well. At present, the total water purifier market is about Rs 1,500 crore (Rs 15 billion). Water purifiers can be found in 10 per cent of urban homes, while rural penetration is less than 1 per cent.
Although Nandy didn't categorically pinpoint his target in the underpenetrated space, he's placing his bet on the 200 million households that do not have access to safe drinking water.
Moreover, experts say that the concept of refills or replaceable parts is the key to Tata's strategy. While the price of Swach may be low, there is an assured flow of income from the sale of cartridges. At the same time, it significantly eliminates the need for after-sales service, unlike its peers in the business.
On the pricing front, Swach costs far less than rivals Hindustan Unilever's Pureit and Eureka Forbes' Aquasure, which cost Rs 2,000 and Rs 1,950, respectively.
"When penetration levels are low, there is a requirement for more and more players," says Nandy. Interestingly, Pureit's battery or its chlorine-discharger kit lasts for 1,500 litres, after which it needs to be replaced. This battery kit costs Rs 365. The Aquasure cartridge is priced at Rs 400. Swach's replaceable cartridge lasts longer, the Tata Group claims, and costs Rs 299.
Crowded market
There are indications that Hindustan Unilever may now drop prices. This could take the sting out of Swach. And the market place could get crowded soon. Godrej, for instance, is all set to join the bandwagon.
Last year, the company came out with an ultraviolet water purifier for the urban market that cost Rs 6,500, and it is all set to roll out a product in rural areas. Philips joined the race two years ago with its Intelligent Water Purifier. The company calls it the first autonomous water purifier in the market with battery backup.
Interestingly, Tata's water purifier is geography-specific. The first two variants are targeted at regions where arsenic and fluoride are high in content. In due course, it will roll out variants that will fight other impurities as well.
Critical challenges
The market may hold the potential for growth, but there are critical challenges that companies face. Creating awareness will be the biggest headache for Tata. When they were doing the research for Swach, Nandy and his team discovered the callous attitude attached to the concept of water purifiers.
On behalf of Tata, The Monitor Group studied 2,000 people across rural areas. The results suggested that there were four clear segments: The first did not face problems with water-borne diseases; the second had instances of diseases but felt it was not because of water; the third group used some method of purification and was satisfied with it; and the fourth used some form of purified water but was not satisfied with it.
Naturally, the third and fourth groups were more enthusiastic to the product and felt that the costs incurred in LPG, wood and coal were in fact more than the purifier. Many of them even perceived it to be a gifting item, equating it to a cycle or an electric fan.
However, tapping the first two groups will pose a challenge to the company. But overall, while adults were resistant to changing their attitude, they wanted to provide their children with the best. "For us, children are going to be an important vehicle in selling Swach," Nandy adds. This could be the guiding principle for Swach communication.
Brand building
As for brand building, Nandy's team is following a two-pronged approach. The first comprises conventional marketing of the product, while the second will concentrate on the causes related to unsafe drinking water.
Distribution is equally important. On paper, the water purifying business sounds lucrative in a country where 80 per cent of the nation's water supply comes from groundwater. But owing to the dispersed nature of the market, price and general lack of awareness, penetration has been low.
Here, Tata will bank on other Tata firms, including Rallis, the company's farm retail business, Tata Salt, which caters to 53 million households, as well as some non-profit outfits. All this, it hopes, will help it sell one million units a year and three million units a year in the next five years.
Surely, it won't be a cakewalk. Current market leader Eureka Forbes has established 100 community centres with the help of NGOs across villages that will offer consumers water from its Aquasure purifier. These centres charge people as little as 10 to 15 paisa per litre.
"A large number of people who need safe drinking water cannot afford to pay the upfront capital of Rs 1,000," says Eureka Forbes CEO Marzin R Shroff. Its emphasis is on distribution and awareness -- it is present in 14,000 outlets in 1,200 towns. "Alliances are critical, hence we tie up with NGOs like World Vision who help create awareness in rural areas," Shroff adds. The Tata challenge isn't enough for him to cut prices.
"We're not in that game, but we will look at innovative ways of making products. In fact, we've already got a couple of breakthroughs. We welcome people like the Tatas," he says.
Can Tata hang on?
Image: Ratan Tata at the launch of the Swach water filters. Photograph, courtesy: Business Standard