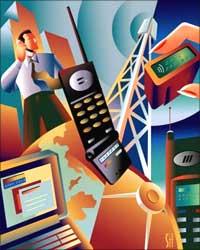 Don't have a telecom licence? Or that precious thing called spectrum, without which even a licence is worth nothing? Or perhaps you're a foreign telephone company, unwilling to dilute your equity to below 74 per cent in an Indian joint venture? The way the law is right now, if you don't meet these criterion, you can't offer telecom services in the country.
But don't fear, MTNL is here - and perhaps BSNL as well! Thanks to a unique 'services franchisee' bid that MTNL has just put out - all responses have to be in by September 4 - any telecom firm that's not already doing business in Delhi and Mumbai is free to offer telecom services under its own brand in the two telecom circles where MTNL operates, in return for a share of the total revenue it collects from these customers.
And not just ordinary voice calls of the type MTNL currently offers; the services franchisee will be offering high-end fast-speed data services - so, if you want to operate your new 3G Blackberry Bold and want to download the latest Angelina Jolie blockbuster, you can do it on a British Telecom or a China Telecom mobile service, brought to you in association with MTNL.
That's right, MTNL's Expression of Interest says, prospective participants are supposed 'to promote MTNL brand' or 'create own branding and marketing of 3G services & products'. Even companies like Bharti have outsourced the major part of their networks to companies like Ericsson, but the brand customers interface with is always Bharti - this makes MTNL, and perhaps BSNL if it decides to follow in MTNL's footsteps, the only telecom company in the world to allow others to cannibalise its brand.
Customers in Delhi and Mumbai could theoretically know MTNL only for its voice calls but think of British or China Telecom when it comes to data services.
Under the Expression of Interest, the franchisee will do everything. The franchisee, to quote from the Expression of Interest, has to have the 'necessary resources and infrastructure to acquire, serve and retain customers, provide customer care, set up own payment collection system/mechanism, create sales and distribution network, to promote MTNL brand or create own branding and marketing of 3G services & products, advise & package different tariff plans, VAS & content services for 3G Access Network.
The 3G-Franchisee is to provide end to end services as per the schedule of services on 3G Access Network…' The only thing MTNL will provide is access to the spectrum and its infrastructure - its telecom towers, for instance - and the necessary connectivity between various points, to take the signal from one base station by cable to another base station, for example.
The good thing, from the customers' point of view, is that the service will finally happen - MTNL wants a minimum revenue of Rs 30 crore (Rs 300 million) in the first year in each of the two metros it operates in, going up to Rs 240 crore (Rs 2.4 billion) in the third year. Given its poor performance so far in getting customers, MTNL is even willing to offer a 5 per cent bonus of the additional net revenue if the target is surpassed.
The problem began late last year when, for reasons best known to it, the government allotted both MTNL and BSNL 3G spectrum even though this was not given to any private sector firm - the only proviso was that, whenever the auctions for spectrum finally took place, both firms would match the entry fee paid by the others. And ditto for the revenue shares whenever they were finally fixed.
Given the pace at which the 3G auction process is proceeding, that meant a headstart of at least a year for these two public sector telcos. Most would have moved heaven and earth to make the most of this largesse. Not so for either of the two PSUs.
While MTNL has got around 300-500 subscribers so far, the company's chairman has set a target of 1,000 customers by the end of the year. BSNL hasn't done that much better either and has 3,000 customers across 25 cities. And though there is no official word, executives in the company say that even they might look at the MTNL model for their 3G services.
Various issues come up. There is the obvious one about the branding that has been dealt with. There is, then, the issue of a level playing field. While private operators who wish to offer their own services will have to wait till such time as the government finally allows 3G auctions - an Empowered Group of Ministers has just been set up to examine the issue of the floor price that needs to be fixed before the auction - those willing to operate through MTNL will get a headstart over them.
Telecom experts also point out, for instance, that what MTNL is doing through the Expression of Interest is to create a mobile virtual network operator. A MVNO essentially buys minutes or leases out infrastructure from a mobile operator and then offers services under its own brand, collects the tariff and controls the subscriber.
Yet, it so happens that MVNOs are still not allowed in India - the Telecom Regulatory Authority of India has made its recommendations in favour of MVNOs but the government still has to take a final call on these.
It is unclear as to how MTNL floated an Expression of Interest without any clarity on the matter though it has to be said that Virgin is doing something similar with Tata Teleservices, though for ordinary 2G-type services.
Equally curious is the fact that the Expression of Interest allows global players with 100 per cent foreign equity to apply though the government policy is clear that foreign equity has to be capped at 74 per cent.
Whether this will work for MTNL, of course, is not fully clear as yet. For one, there is the issue of whether private firms will bid till such time the MVNO issue is clarified and ditto for the 100-per cent foreign equity clause.
Another hurdle from the bidders' point of view, of course, is the time period specified. The Expression of Interest mentions a period of 10 years, with no clarity on how costs of the franchisee are to be recouped once the contract period is over - there is money that will be spent on brand-building and possibly even on infrastructure since the model allows for either MTNL or the franchisee to spend on this.
Nor is it clear that MTNL wants to carry on with the franchisee's brand for the rest of the period of its 3G licence and, if so, how this is to be dealt with - in other words, MTNL still needs to do a lot of introspection on what exactly it is that it wants.