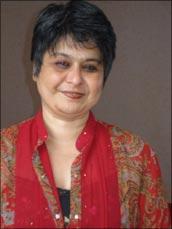 Professor Nandini Vaidyanathan, an alumna of Delhi School of Economics, has spent 20 years in the corporate sector, working in a cross-section of industries -- security, media, pharmaceuticals, gas, office automation, equity market and animation -- all over the world.
She has been teaching entrepreneurship in premier business schools in India (IIMB), US (Princeton), Singapore (NUS) and UK (LSE) for the last four years. In 2008 alone, she taught over 2,300 students around the world.
She has been working in India, Afghanistan and the Sub-Saharan Africa. She is a mentor with New Ventures India, a joint initiative between World Resources Institute, Washington, CII Godrej green building, Hyderabad and MentorPartners, an on-line enterprise support and mentoring platform for entrepreneurs.
She is also the mentor-promoter of a company called Startups that mentors young entrepreneurs.
Startups is actively involved with micro finance institutions in facilitating business models that transcend poverty lines and loan recovery.
She was in Hyderabad to speak at the TiE-ISB Connect 2009 on Incubation Centres and Mentors at the 'Start Up Your Venture' workshop. Soon after her speech, she was surrounded by young entrepreneurs for advice.
She took some time off from the young future entrepreneurs to speak to rediff.com.
You have spoken to many entrepreneurs all over the world. Is there any difference in the way Indians approach an idea?
I see two big differences. Entrepreneurs in India are more intelligent and better educated. That is the positive difference. But the negative difference is that there is no ecosystem in India that encourages them to be entrepreneurs.
In other parts of the world, when you say you want to be an entrepreneur, nobody raises an eyebrow. In India, if you say you have done your engineering and want to be an entrepreneur, the first thing parents ask is 'Have you gone mad? Why do you want to do that?'
Everybody will tell you that the opportunity cost of becoming an entrepreneur is very high and after you finish your MBA, you are offered fancy salaries and why would you want to give up that? I had a student in IIM Bangalore who told me, 'Ma'am, I have an offer of Rs 26 lakh (Rs 2.6 million). If I become an entrepreneur, I may not make Rs 26 lakh in my lifetime'!
This is the case with educated people. What about the not-so-educated people who start various businesses in their little space?
I work with women in the micro-enterprise space in India, Addis Ababa, Rwanda, Kabul, etc. Kabul is very difficult for women entrepreneurs.
Are these people bigger risk-takers?
They don't look at it as risk-taking. For them there is no other option to come out of poverty and build a meaningful quality life. So, they see entrepreneurship as the only option for a better life. This is how it should be.
I feel this should be the attitude of all. I was saying the same thing to some youngsters who said, 'We are engineers, how do we go about as entrepreneurs?' I said, first, you don't go for placement, be an entrepreneur. That is the only way you do it.
How does being an entrepreneur enhance the quality of life of an individual?
If you are an employee, it will take about ten years to learn all the aspects of business. If you are entrepreneur, you pretty much learn it in one year.
The downside of it is that you get grey hair faster when you are an entrepreneur! The upside is, the learning compression is phenomenal. And that makes you a better person. If you are working for somebody, you may be a marketing person or a finance person or a technology person but if you are an entrepreneur, you are all rolled into one.
The kind of exposure across functions and the ability to think on your feet, the ability to take risks, the ability to visualise tomorrow, the ability to plan for tomorrow -- I think those are skill sets you are able to acquire literally overnight. It's a hard knock. I am not saying it is easy. But you do it the hard way and you learn them at the end of it. That makes you a better person.
How should an entrepreneur look at becoming an entrepreneur -- as a wealth creator or creating something more for society?
Primarily, the motive of an entrepreneur should be creating meaning in life, enhancing the quality of life around him. It is not about making money. He wants to be an entrepreneur because he wants to create meaning for other people and himself. He is creating a better quality of life, the way it can be done.
The unintended consequence of that is wealth creation and wealth distribution, but that can't be the primary motive. Having said that, I don't mean he does it for charity; not at all. Every entrepreneur, every enterprise has to have wealth creation in the agenda. He can't keep making losses for the rest of his life because he can't sustain it. But that is an unintended consequence.
The primary reason why you become an entrepreneur is because you want to create meaning and you want to leave a footprint! That is the only way you can do it.
You said 'they leave a footprint'. In the last few years, can you name a few entrepreneurs who have impressed you?
There are many. In the last three years, I worked with over 300 entrepreneurs. Each one of them is unique. To me, every one of them is a hero. They are doing something phenomenally out there.
What will you tell those young people out there who have a desire to be entrepreneurs?
Go ahead and be an entrepreneur! Don't keep saying, 'I want to be an entrepreneur' and 'One day I will be one'. There is no 'some day'; just go out and chase your dreams!
Photo: Shobha Warrier