Sure, there are 10 million new subscribers each month, but they're not adding much value -- telecom revenues are flat as a chapatti. There's also pretty serious doubt as to how many of these are new subscribers and how many just existing subscribers buying new SIM cards to avail of discounts/schemes on them.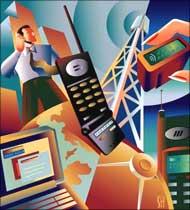 In the build-up to the Bharti-MTN deal, this was pretty much the story you kept hearing - average revenues per user are collapsing in India and will get worse as all telecom growth comes from rural India since urban India is 95 per cent penetrated already (24 mn rural subscribers were added in the June quarter as compared to 21 mn urban ones), so Bharti just needs to get out of India if it wants to grow.
MTN was the obvious solution given its pre-eminent status in a growing market like Africa and its ARPUs that are three times Bharti's.
All of this is obviously true in a sense, though judging by the stock market's reaction to the deal collapsing, not everyone bought Sunil Mittal's view that the deal was a game-changer for Bharti.
This column is not getting into whether the synergies the analysts have documented in elaborate spreadsheets would actually ever come about to make it worth the money Bharti would have invested, or issues like whether Bharti needs to look for other investment avenues.
Presumably it does since Mittal is a canny businessman and hasn't taken too many decisions that have hurt Bharti's growth. As for the state of the telecom sector, a lot depends on how you view it.
The trending down of revenues is a fact - the revenues in the March quarter (the Trai doesn't give total GSM revenues for June) suggest new subscribers are giving as little as Rs 70 per month to telcos.
But given that each telecom tower a company sets up can service a certain amount of traffic - whether from a lesser number of users calling more or from a higher number calling less is irrelevant - what's important is the profitability of the business. Admittedly Bharti is the best in class, but its numbers show a completely different side to the Indian telecom business - it shows a business that is giving returns in excess of 30 per cent on capital employed.
And in case you think that's just Bharti, just look at some recent telecom deals to see how potential investors are looking at the market. After Vodafone put in over $11 bn in cash to take over Hutch in a deal valued at $18.8 bn in 2006, Telekom Malaysia bought 15 per cent of Idea Cellular for $1.5 bn last year; Etisalat bought 45 per cent of the start-up Swan Telecom for $900 mn last year while Telenor paid a whopping $1.2 bn for 67 per cent of Unitech's start-up - firms with no subscribers were valued at, respectively, $2bn and $1.8bn, suggesting the market has a way to go; NTT DOCOMO bought 26 per cent of Tata Teleservices for $2.7 bn less than a year ago.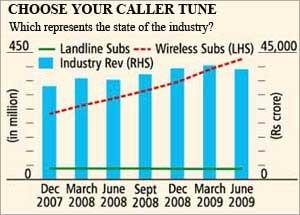 So where is this potential coming from? While the newcomers obviously cannot expect to match Bharti's economies of scale, the big game-changer is likely to be 3G.
It seems difficult to believe Indians are going to be consuming data services in huge amounts, but according to consulting firm BDA's projections made in January, while India's telecom revenues will jump from $21.5 bn in 2008 to $40.3 bn in 2013 (subscribers from 346 mn to 713 mn), 3G revenue in 2013 would be $16 bn - that is, while around a fourth of the new subscribers will be 3G ones (90 mn of the total of 713 mn by 2013) the bulk of revenue growth will come from 3G!
To put the data services usage projections in perspective, Trai data show that while India had no broadband subscribers in 2003, this was up to 5.3 mn in 2008 and they had an ARPU more than three times that of the plain vanilla voice customers.
Profitable companies
Bharti-Airtel
2005-6
2006-7
2007-8
2008-9
Subscribers, mn
20.9
39
64.3
96.7
Revenue,Rs cr
11,664
18,420
27,012
37,352
Profit after
tax, Rs cr
2,027
4,062
6,395
7,859
EPS, Rs
10.8
21.4
34.2
41.4
RoCE, %
21.5
31.6
33.3
30.7
Source: Company Balance Sheet
Good outlook
Date
Acquirer
Acquiree
%
bought
Amt
$mn
Jun-08
Telekom
Malaysia
Idea
Cellular
15
1,521
Sep-08
Etisalat
Swan
Telecom
45
900
Oct-08
Telenor
Unitech
67
1,224
Nov-08
NTT 
DOCOMO
Tata
Teleservices
26
2,700
Source: CLSA
Game-changer
 
2008
2013*
Mobile Subscribers, mn
346
713
of which, 3G, mn
0
90
Industry Revenues, $ mn
21,583
40,315
of which, 3G, $ mn
0
15,800
*Projections                           Source: Ficci-bda
So, Bharti may want to buy MTN, or now Zain going by a report in this newspaper a few days ago, but it's not because India's telecom is in trouble.