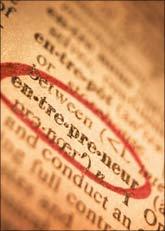 Over the last two decades, India's socio-economic fabric has seen an unprecedented change. Such is the nation's demographic profile, this change is not yet complete and will continue at the same fast pace for the next two or more decades before some semblance of steadiness is achieved.
The impact of India's Gen Next is already visible in many spheres but perhaps none more than in the emerging profile of its entrepreneurial class.
India always had a very large proportion of self-employed in its working population, and even now, by some estimates, over 65 per cent of all adult Indians in the working age group are engaged in myriad self-employing vocations with agriculture, retail/wholesale trade and professional services being the largest.
India, of course, has also seen some extraordinary entrepreneurs in the last 100 years and more, and the myriad businesses that they gave birth to continue to provide a very visible growth momentum to the economy.
What is more interesting, however, is the phenomenon of an emerging "middle class" even in the context of entrepreneurship.
Until, say, a generation ago there were largely two "classes" of entrepreneurs in India. These were the (by the then Indian economy standards) mega-scale ones which included major business houses such as Tata and Birla and a host of others, and the small and medium ones that owed their existence partly to the anachronistic policy of reserving thousands of articles of normal consumption for small-scale entrepreneurs.
The big became bigger due to their ability to successfully compete for licences and their ability to successfully seek public capital by way of equity and debt.
The small started up under the umbrella of the SSI reservation policy but the same policy subsequently came in the way of their becoming medium-scale enterprises.
A host of factors including elimination of licensing and quotas, easier and more universal access to capital including risk capital, steady economic growth for most of the last 18 years, increasing globalisation, profound changes in private consumption not only in absolute terms but also in the consumption basket itself, and the enhanced emphasis of the government -- finally -- for stepping up its spending in physical and social infrastructure, have provided a very conducive environment for Gen Next entrepreneurs to venture into uncharted waters.
It is really exciting to know that many are succeeding, and this success will motivate tens of thousands others to start the next generation of entrepreneurial ventures in incredibly diverse sectors such as manufacturing (including very high technology), a complete array of services including logistics, human resource development and training, education, healthcare, real estate, infrastructure development, food and hospitality, etc.
This new middle class of entrepreneurs is fundamentally different to entrepreneurs of yesteryears.
They are, in many ways, more "genuine" entrepreneurs since most of them are starting out in a field that is much more level than ever, and hence the competitive landscape for them is also much more challenging.
Further, the aspirations of most of this new breed of entrepreneurs are way beyond just achieving a comfortable living. They dream big, and while they may have respect for the mega-entrepreneurs of today -- which include, beyond the Tata, Birla and Godrej families, the Ambanis and the Mittals, Mahindras, Ruias and Munjals -- they are not overawed by them. Indeed, many such till-recently "middle-class" entrepreneurs (Adani, GMR and GVK, to name a few) have already joined the ranks of mega-entrepreneurs.
Hundreds more will do so in the next decade.
These Gen Next entrepreneurs are also far more attuned to the emerging needs of the Indian (and global) economy and hence are more aggressively entering potentially exciting sectors such as agri- and biotechnology, food processing, healthcare delivery, education, clean and efficient energy, consumer-oriented services such as travel and hospitality, food services, micro-finance, etc, setting themselves up to join the ranks of the next decade's mega-entrepreneurs.
Just as an enlarging middle class of consumers provides strength to the domestic consumption backbone, this rapidly enlarging 'middle class' of entrepreneurs will provide tremendous strength to India's economic growth for decades to come.