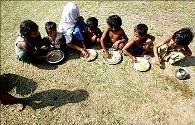 Grain stocks in the current procurement season will be enough to feed all those who go hungry, and the FCI only needs to invest in proper storage facilities, says N Chandra Mohan.
A truly landmark legislation on ensuring food security in India is on the anvil. Those following its twists and turns cannot but have a sense of déjà vu.
Before the National Rural Employment Guarantee Scheme became a reality - due to pressure from the National Advisory Council (NAC) - there was a similar tension within the UPA as reformers wanted to fiscally pare down its importance.
A reconstituted NAC now wants the draft food security bill to be more inclusive and provide 35 kg of food grain, forcing the Empowered Group of Ministers to redraft their earlier version that restricted the provision to 25 kg to those below the poverty line (BPL).
As the scope of the bill will be widened, as desired by NAC's chairperson Sonia Gandhi, this will be the first time a constitutionally guaranteed safety net will be erected to combat widespread hunger.
If the NREGS guarantees 100 days of work to anyone who wants it, the draft food security bill ought to be similarly demand-driven to ensure that food is supplied to whoever goes hungry in the country.
This includes not just the poor who live in the countryside but also vulnerable groups like the urban homeless and migrants in the towns and cities. One way to ensure this will be to universalise access to a radically revamped public distribution system.
It is a shame that a country that prides itself on becoming a future economic power in the world also has the appellation of being a "republic of hunger". The pervasive dimension of the problem has been known for long and was even detailed in official Economic Surveys!
The prevalence of hunger, as measured in months in which any member of a household had inadequate food, was as high as 9 in West Bengal, 5.3 in Orissa, 5 in Assam and 2.7 in Bihar, when compared to the national average of 1.9 months in 2004-05. Its spread, depth and intensity is unlikely be any different when the 2009-10 round data of the National Sample Survey becomes available.
If any thing, the endemic character of hunger probably has only worsened of late with high and persisting food inflation - wholesale prices were up by 17.7 per cent in the week ending March 27 and show no sign of climbing down.
Costlier food adversely affects small and marginal farmers and landless labourers, whose market-dependence for purchasing cereals like rice and wheat is high. After assuring itself that this is largely a supply-side problem, the UPA government and 10 state governments are now contemplating whether harsh provisions under the Essential Commodities Act should be introduced to crack down on hoarding and speculation.
But food inflation is unlikely to go away soon. The rationale for a more inclusive food security bill is all the more pressing, as the rate of growth of food grain production has, in fact, decelerated to 1.6 per cent per year, while India's population has continued to grow by 1.8 per cent between 1990-91 and 2008-09.
This has resulted in a decline in per-head availability of cereals - from a peak level of 468 grams per day to 375 grams per day over this period, a massive drop of 25 per cent!
When compared to the 1980s, when per capita availability averaged around 420 grams per day, this situation deteriorated during the noughties when it fell to 410 grams per day.
The upshot is that there is an inbuilt inflationary bias in the system, which just needs a trigger to be set off. Last year, that trigger was a failed monsoon that was 27 per cent below normal.
This, in turn, affected kharif food grain production and set off the current food inflation. In this milieu, what makes a more inclusive food security bill feasible is that there will be adequate buffer stocks with the FCI. The current stocks of rice and wheat are around 42.4 million tonnes.
With the FCI expected to procure 25 million tonnes of wheat from Baisakhi onwards till July, the stocks will be more than comfortable at 60 million tonnes-plus to feed anyone who goes hungry.
With the latest population estimates, there are around 23.5 crore families in India, out of which the BPL component could be 8.74 crore families if one uses the Tendulkar Committee's estimates of poverty or 11.75 crore families if one considers the N C Saxena Committee's number.
The required amount of food grain, thus, ranges between 37 million tonnes and 49 million tonnes if 35 kg of grain is given to these families every month in a year. Clearly, the grain requirement is well within the likely buffer stocks with the government.
With such potential plenty, why then should there be pervasive hunger? The passage of the food security bill could be a favourable juncture for the FCI to invest in proper storage facilities to bring down wastage of food grain. The time has run out for letting grain rot with impunity while hunger stalks the land.
The author is Professor of Economics and International Business at IILM Institute of Higher Learning.