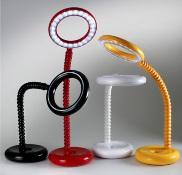 India's first eco-friendly rechargeable LED study lamp, BPL Studylite has bagged the Red Dot Product Design Award in the Lighting category.
BPL StudyLite was chosen from 4,252 entries across a field of around 1,635 companies from 57 countries across the world and is the only Indian product to win in 2010, a release said.
The Red Dot award is regarded as one of the most prestigious International product design awards and denotes international seal of quality for outstanding design. Each year an international jury of around 28 judges reviews and evaluates the entries using various criteria.
BPL did an extensive research to better understand consumer needs during power outages. The research revealed that children were the most affected in this situation as they were not only deprived of their study time but also used alternatives such as oil lamps and candles that are harmful to the eye.

StudyLite was born as a solution to address this need for uninterrupted lighting. According to Ajit G Nambiar, chairman and managing director of BPL Limited, BPL StudyLite is an eco-friendly and energy efficient product which is scientifically tested for ideal lighting ambience.
The BPL team worked with Sankara Nethralaya, optometric research and eye hospital in India, to make sure that the level of lighting is appropriate for the eye. The awards will be presented in Essen, Germany on July 5, 2010.