In a sense, C K Prahalad was behind the curve; he provided coherent articulation of existing best practices rather than providing future prescriptions.
If you have any memories of the management guru, or opinion about how his management principles changed business perception, please share them with our readers. Write to us at bizdesk2003@rediffmail.com.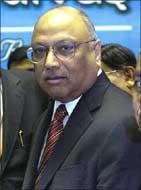 As far as conventional practice goes, management thinker C K Prahalad has received his due share of eulogy when he died last week. Many rated him on a par with Peter Drucker. Shorn of the hyperbole, Prahalad's real legacy may be less glittering or practical.
True, he has been a permanent fixture in annual listings of top ten management thinkers for over a decade. His lectures were always House Overfull. Indian businessmen idolised him because he was (rightly) a champion of Indian entrepreneurial talents.
As far as the standards of contemporary management gurudom go, his reputation is not unwarranted. After all, he has bequeathed enduring terms to management jargon - "core competence", "co-opetition" and, most popular of all, "bottom of the pyramid".
Few management gurus have created so many catchphrases in one lifetime. For all that, the adulation for Prahalad, an undeniably gifted writer and speaker, may have been overdone.
One of the marks of a good philosopher is the ability to predict future trends. In a sense, Prahalad was behind the curve; he provided coherent articulation of existing best practices rather than providing future prescriptions.
Take "core competence", the concept he co-created with Gary Hamel - Prahalad and Hamel argue that a firm's competitive advantage flows from its collective learning and skills behind the product line, and its ability to integrate multiple technologies and coordinate diverse production skills.
To achieve this, firms needed to organise themselves into a "portfolio of core competencies rather than a portfolio of independent business units". This was a striking point, especially for licence raj-restricted Indian businesses that were forced to diversify haphazardly to grow - but less so for giants like Sony, Philips, Shell, or Tesco which had been practising this for decades.
"Co-opetition" talked of how corporations need to "co-opt" the customer in designing their products and services. This was an obvious point - in a competitive market, every marketing professional is taught the importance of being pro-active with customer feedback.
But most of the praise has been reserved for Fortune at the Bottom of the Pyramid, in which he argued that firms could potentially make money selling products and services targeted at the world's poorest people.
A closer look at this theory and the examples that Prahalad provides suggest a problem in the basic construct. Firms that produce low-cost, mass-market products do so to expand markets among an aspirational lower middle class.
For example, the shampoo sachet - incidentally, it predates Prahalad's theory - was aimed at encouraging sampling among rural consumers to expand the market to rural bases. It is a truism that executives often confuse "rural" with "poor", which is scarcely the case. Concepts like micro-finance are aimed at providing poor people access to credit, not making money from them.
Prahalad's Umich colleague Aneel Karnani described this attractive and politically correct theory as "at best a harmless illusion and potentially a dangerous delusion". Perhaps the best commentary on its efficacy came from Praja, the BOP company Prahalad co-founded to provide a platform for common people to personalise their own experiences on the Internet. In 2002, the company was sold having made a $55 million loss and laid off one-third of its staff!