The former ONGC chairman's passion for everything that he set out to do was such that he would settle for nothing short of being the best, says Sudhir Bisht.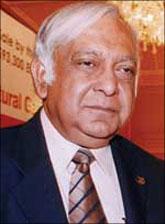 It was when my friend Somesh sent me an SMS informing me about the demise of former chairman of Oil and Natural Gas Corp Subir Raha (in the picture) on February 1 that I came to know of it.
Many images spring to my mind immediately of a man whom I had known as a business leader who had a truly analytical mind, and was one of the most intelligent, fearless and hardworking persons I had ever come across. He was also totally inflexible if it came to the matter of making a compromise with his values.
I feel if Subir Raha had been into academics, he would have been one of the best teachers in the world; if had chosen to work in the private sector, he would have retired as the CEO of one of the Top Ten Fortune 500 companies in the world; if he had chosen to be a policeman, he would have terrorised criminals like no one could have; and if he had wanted to write a book, he would have at least earned a Booker.
His passion for everything that he set out to do was such that he would settle for nothing short of being the best.
It is also likely that if Subir Raha had not been passionate about his work as the helmsman of ONGC, the much valued PSU would have fallen by the wayside.
My encounters with Subir Raha
I first met with Subir Raha in 1988 at Hotel Jahanuma Palace in Bhopal. Raha was the deputy general manager at Indian Oil Corporation and was heading the LPG division at the head office. I was a rookie operations officer at one of the LPG bottling plants then.
He had come to lecture us on efficient plant operations. In 1988, there used to be a rather long waiting list to get an LPG connection. To meet the growing demand, the plants were always under pressure to fill more and more cylinders.
Bypassing safety norms was always an option, but there were hardcore operations leaders like Raha who would allow none of that. 'Production must, but safety first' was his mantra.
Subir Raha was the quintessential operations man who never gave in to the sales guys. "The main responsibility of an Indian Oil operations officer is to ensure that all safety procedures are being adhered to during his shift," he said when I asked him as to what was my primary objective (as operations officer).
"Then, Sir, who will go after the bottling? Who will ensure that the shift targets are met?" I asked.
That he said was equally important but, "safety comes first."
I met Raha the second time when I was still an operations officer in 1990, but he had become the general manager-LPG by then. Once again we met in a training session and I remember that the training was on Plantdoc, a software programme for the computerisation at the LPG bottling plant. The training was conducted by CMC Ltd and in spite of the best efforts of the external faculty, most of us failed in the final test.
Raha had come from the head office to review our progress. He was furious at being informed that most of the young officers had failed the test. He asked for the names of the failed officers to be called out. Eighteen names were called out. He then asked for the names of the successful officers to be called out and three names were called out. I was surprised to find my name among the successful candidates. I knew that I had scored only 48% marked and failed to secure the minimum qualifying marks of 50%.
Raha asked the training manager to extend the training for all those who had failed and admonished the group angrily. He then asked the group to applaud for the few successful officers.
I was flush with shame. I wanted to tell them all that I too had failed but my fear got the better of me. Somehow I mustered up courage and raised my hand. "Yes. Anything?" Raha's voice boomed.
"Yes Sir. I want to say that I too have failed. I am sure that it was by mistake that my name was listed among the successful candidates," I said.
There was pin-drop silence in the training hall. After a while Raha said, "Okay. Then you also stay back for the training." I felt greatly relieved, as if a huge burden was off my chest.
In the evening, during the team dinner, Raha came to me, shook hands with me, congratulated me on my truthfulness and asked me to keep that spirit alive.
I met with Raha again a couple of times. He left Indian Oil (where he became the director-HR) to become the chairman of ONGC.
Many people tipped him to fail. He was a man who always stood up to the diktats of the unions, but being the chairman was an entirely different ball game, they said. The strong officers' association and the tough trade union of ONGC will make him whimper and at ONGC, Raha will meet his waterloo, was the common refrain.
But Subir Raha was made of a sterner stuff. He collaborated with those who responded to his appeal to shape up and confronted those who obstructed his journey onwards.
He fought off the challenges from one and all, including the most severe challenge from the petroleum ministry to add the 'maximum market value' to ONGC.
Such dedicated fighters are a vanishing breed in Indian public sector units.
Rest in peace, Mr Raha. I salute your doggedness and your fighting spirit.
The author is based in Lagos, Nigeria, and is the COO of a telecom firm. He has several years' experience in the petroleum industry. The views expressed are personal.