India Inc is hiring once again, but caution is still the watchword, says Shyamal Majumdar.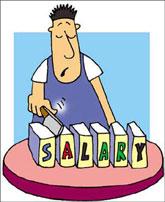 Jobs are back, finally. And the optimism is visible not only at the Indian Institute of Management campuses, but also at the offices of your friendly neighbourhood placement agencies.
Everyone seems to be back in hiring mode -- companies across sectors, led this time by infrastructure, construction and equipment industries (termed the new ICE by Stanton Chase MD R Suresh), are filling up vacancies.
So, if companies like L&T Power are recruiting by hundreds, State Bank of India advertised for 4,000 probationary officers (half of them for rural areas) early this week.
Even retired bureaucrats, former judges and vice chancellors are back in demand.
Vedanta Plc, for example, is looking to appoint them in what it calls Apex Advisory Boards for five group companies. The advisory boards, the company says, will function as a think tank and, among other things, engage in discussions with 'key external entities'.
The impact is predictable. HR managers, who were joking till the other day that they could easily open their own recruitment agencies going by the number of unsolicited resumes they were receiving, are now going back to the basics and brushing up once again on terms such as talent management and hiring best practices.
Crompton Greaves MD Sudhir Trehan says he can once again see a shortage of critical talent, especially at the top level. The situation lower down the pyramid is no less critical. Union Bank chairman and managing director M V Nair says HR has become a major issue for public sector banks, as a large number of officers are retiring over the next few years.
Examples such as these should bring cheer to a workforce that has had a tough time recently. But here's a reality check -- you would be completely off track if you thought things are back to those good old boom years when you could negotiate a better pay package from your existing employer with three job offers in your pocket.
India Inc is now wiser after the lessons learnt during the slowdown. True, companies have begun to hire once again, but their hiring patterns would be vastly different from what was witnessed a year or two ago.
"Forget huge numbers and the mad-growth hiring where anybody with a pair of hands was being recruited irrespective of the fact whether there is a brain attached to the body or not," says Manish Sabharwal, chairman, Teamlease, India's largest staffing solutions firm.
The concept of productivity was sacrificed in the last boom in the boom years, Sabharwal says. Even marginal contributions were tolerated and ignored. But companies have learnt that they can do with less people and achieve far better productivity through better training. In any case, many companies, which had sacked people in large numbers earlier, will wait and watch for a few more quarters before stepping on the accelerator.
Sabharwal sees more replacement and quality hiring this time round rather than growth hiring, and says the days of real growth in jobs will still take a while. Teamlease, for example, used to place 12,000-14,000 people a day in the boom days. That number came down to 1,200 last year. It is now back to 4,000-5,000 a day now -- almost half of what it was earlier.
"The job market has improved, no doubt. But every organisation has fixed a speed limit; those days of hormonal imbalance in hiring are gone," he says.
On increments too, India Inc will be cautious. Gone are the days of fancy bonuses -- with a few honourable exceptions, of course -- and doubling of salaries. A few brokerages, for example, have given or are in the process of giving increments to their employees now that business is looking up.
But the fact is that the increments will essentially be restoration of salaries that had come down by as much as 25 per cent in the last two years.
Some of the information technology companies have also started giving increments. But look at the quantum of the increase: Infosys and Wipro are giving 8-10 per cent increments.
The single-digit nudge in salaries is great considering that until a few months ago most employees were happy just to retain their jobs, but is a far cry from the quarter to one-third salary hikes IT staffers were used to until last year.
The other key change is that companies are now more focused on the difference between performers and non-performers, and are spending more time on the screening process.
Some companies are even seeking third-party assessments of capabilities of soon-to-be-hired executives. Most companies are laying emphasis on employee referral programmes so that the chances of making mistakes in hiring are minimised.
Also, the variable component in executive salaries has gone up to 30 per cent-plus against earlier levels of 10-15 per cent.
All these indicate one thing: What is certain is that the days of gloomy messages of pay cuts and salary cuts are over. But it would be a mistake to get carried away and think that the days of unlimited salary hikes and hiring are back again.