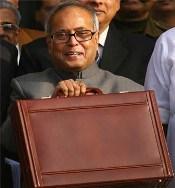 Every year, Economic Survey is presented, one wonders what new issues it will throw up and, more important, if what it suggests will get picked up in the Budget. Last year, the Survey suggested a long list of reforms, but most of these found no place in the Budget.
Despite this and in spite of the variety of official economic analyses now available, such as the half-yearly survey from the finance ministry, the report of the Prime Minister's Economic Advisory Council, and the Reserve Bank of India's prognosis of the economy, the Survey is still looked forward to.
The finance minister put the Survey in the right context, when he said it should also be viewed as generating new ideas for more informed debate on various issues. The chapter on micro-foundations of inclusive growth fits this agenda well.
This will definitely generate a more research-based, informed, debate on issues like labour regulation, jobs, inflation and the implications of social norms and culture on economic development.
The economic context for the 2009-10 Survey has dramatically changed. Last year, the concern was fighting the worst global financial crisis since the Great Depression. This year, it is about managing the recovery. The Survey keeps up the optimism by projecting growth in Gross Domestic Product (GDP) to climb to 8.25-8.75 per cent in 2010-11 and 9 per cent thereafter.
Last year, it had a wide range for GDP growth projection for 2009-10, at 7 per cent, +/- 0.75 per cent. That reflected heightened risks and uncertainties. This year, the lower range of 8.5 per cent, +/- 0.25 basis points, portrays optimism and confidence. Despite projecting high growth, the Survey is still cautious on stimulus withdrawal.
This is in line with the emerging consensus that stimulus pullback should be calibrated with speed and strength of recovery. The Survey, therefore, suggests balancing the immediate need to support growth momentum in the economy with medium-term fiscal sustainability.
What stole the thunder was the release of the 13th Finance Commission Report, whose recommendations have far-reaching implications. Its recommendations of increased share for states to 32 per cent, from the 30.5 per cent earlier, implies the Centre would have to step up its revenue-raising efforts. Budgets rarely follow the Survey's sermon.
But, given that this is probably the best time to push some hard measures (considering the distance from the next elections), we can hope to see some action on the reforms front, too.
Dharmakirti Joshi is Director and Principal Economist, Crisil Ltd.