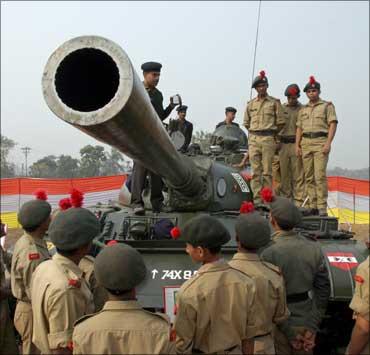 For the past two decades, the military expenditure of India has hovered around 2.75 per cent, but since India has been experiencing significantly higher rates of economic growth over the last decade compared to any other time in its history, the overall resources that it has been able to allocate to its defence needs has grown significantly.
The armed forces for long have been asking for an allocation of 3 per cent of the nation's GDP to defence. This has received a broad political support in recent years.
The prime minister has been explicit about it, suggesting that "if our economy grows at about 8 per cent per annum, it will not be difficult for [the Indian government] to allocate about 3 per cent of GDP for national defence."
The Indian Parliament has also underlined the need to aim for the target of 3 per cent of the GDP. Clearly there is a need for India to strengthen its diplomatic and military capabilities in consonance with its rise as an economic power.
Compared to China's 7 per cent and Pakistan 5 per cent, India's defence budget continues to be around 2 per cent of the GDP. This year the defence outlay only increased by a mere 3.98 per cent and this will undoubtedly cause much heartburn.
This is especially true as the defence budget for 2009-10 had increased by a mammoth 34 per cent over the previous year. It was one of the highest in Indian history. But a large part of that increase went to the increased salaries recommended by the Sixth Pay Commission.
While operating expenditure of the armed forces has been rising, capital expenditure had in fact declined last year. This year's capital outlay actually increased by 9.4 per cent over last year's allocation but around 27 per cent allocated for new defence acquisitions was returned this year.
Like most years in recent times, the ministry was not able to fully spend the capital budget allocated to it in a sign that the armed forces are not being pushed to improve their teeth-to-tail ratios. Of the three services, the Indian Navy is the only service that's investing in future capabilities more than it's spending on running expenditure.
This does not bode well for a nation that claims to be pursuing a much hyped defence modernization programme.
The debate as it has been made out to be in some quarters between defence and development is a spurious one. Unless adequate provisions are made for defence, no state will be able to pursue its developmental agenda.
This is much more important for a country like India that faces a unique security environment with two of its 'adversaries' straddling it on two sides of its borders and problems on all sides of its periphery.
Yet most of the debate in India on defence budget tends to get focused on the amount that the government allocates to defence.
The real issue, however, is how effectively these resources get utilized. In the absence of any strategic guidance, the modernization plans of the armed forces will continue to lag behind.
Merely allocating budgetary resources will not make a difference so long as India continues with its archaic bureaucratic procedures. The labyrinthine bureaucratic procedures only lead to more corruption in defence procurement. Greater transparency and efficiency is where the focus should really be.
At a time when Indian forces don't even have basic artillery, it is useless to talk of Indian power projection capabilities. No one takes India's claims of being a rising military power seriously anymore and Indian adversaries are getting bolder by the day.
Finally, while India needs to more effectively manage its defence resources, it should also be taking a closer look at its foreign ministry.
The budget of the external affairs ministry did increase by 24 per cent last year. But the Indian foreign service needs a major revamp and it continues to be extremely small compared to the expanding interests of India in almost every part of the world.
Defence and diplomacy are two sides of the same coin and India can't afford to ignore either of these.
India has a government that has no strategic vision, a minister of defence who is more interested in maintaining his "clean" image than in meeting nation's security needs, an armed forces leadership that is not interested in cleaning the mess within and a public that is only interested in defence issues during times of crises.
Is it any wonder then that India presents itself as a sitting duck to its adversaries?
There is no substitute for strategic thinking and institutional effectiveness in foreign and security policy-making. Can we have a blue ribbon commission to look into this please?
Otherwise, budgets will come and go without adequately serving Indian national security interests.
Image: Students from the National Cadet Corps stand on a tank at an exhibition organised by the Indian Army in Siliguri. Photograph: Rupak De Chowdhuri/Reuters
The writer teaches at King's College London and is presently a Visiting Fellow at the University of Pennsylvania.