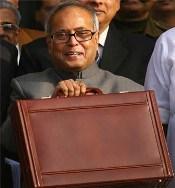 The Finance Minister Pranab Mukherjee on Friday said economic growth during the current fiscal could exceed 7.2 per cent projected by the Central Statistical Organisation (CSO).
Unveiling the budget for 2010-11 in Lok Sabha, he said, "final figures may turn out to be higher" as the economy has done well in the second quarter ending September 2009 recording a growth rate of 7.9 per cent.
The economic growth figures, released by the CSO earlier in the day, said economy grew by 6 per cent in the third quarter ending December 2009.
Following the global crisis, India's growth rate slipped to 6.7 per cent during 2008-09 from over nine per cent during the three preceding years.