Major subsidies must be knifed before unwinding excise cuts.
In a year of ascendant Keynesianism, the finance ministry is cautioning that too much stimulus can be injurious to the economy. This can only be interpreted as indications of ebbing of the fiscal tide in the forthcoming Budget. That the stimulus needs to be unwound is undisputed.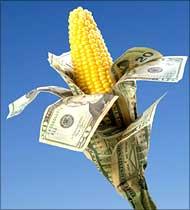 But using the same metaphor of excess, there is such a thing as good and bad cholesterol, i.e., excess fiscal deficit due to capital spending is much less injurious to economic health than spending on unproductive subsidies.
Excise duties will eventually be restored to their pre-crisis higher levels, although it would be better to just dovetail their extinction with the rollout of GST. But before unwinding excise cuts, the government is well advised to first apply the knife to major subsidies.
These include oil, food and fertiliser. The oil subsidy also includes fiscal support for maintaining low retail prices, i.e., an incomplete pass through of international crude oil prices.
These "losses" are not explicitly borne by the exchequer, but by oil and marketing companies (or rather their shareholders).
Additionally, there is also the subsidy on kerosene and LPG which was budgeted to be a mere Rs 2,840 crore in 2009-10, but whose actual burden was more than ten times that amount. The total burden on the oil companies, euphemistically called "under-recovery", is abut Rs 50,000 crore (Rs 500 billion) for this fiscal.
There have been three major committees (Chaturvedi, Rangarajan and now Parikh) which have grappled with rationalising the petro-pricing regime.
The chairman of the Finance Commission too called for deregulating pricing of gas and petroleum to enable efficiency, competitiveness and investment in exploration. For kerosene too, it is clear that targeting is a far better strategy than universal under-pricing.
An NCAER study says that more than one-third of all kerosene is diverted into the black market. Better targeting alone can trim a major portion of the oil subsidy. As we struggle with fiscal discipline, we must face the brute of ravenous subsidies, the aam admi and the inclusive growth agenda notwithstanding.
Major subsidies have grown at a CAGR of 45 per cent since 2002-03, and food subsidy has grown even faster at 50 per cent. This is well above the growth of nominal GDP as well as government expenditure.
Between 1991 and 2004, food subsidy grew by ten times. This subsidy aims to achieve three things - price stability, food security and adequate remuneration to farmers. Given that food inflation has been in double digits for almost two years, clearly this objective has not been met.
Similarly, the fertiliser subsidy bill was a whopping Rs 75,000 crore (Rs 750 billion) last year. But that didn't prevent a decline in foodgrain production. Most of the subsidy has gone as payment to foreign producers.
Domestic production can meet only two-thirds of the demand, and the rest has to be imported, often at steeply adverse prices. The subsidy regime has resulted in zero new investment in the sector. Fertiliser firms are being paid in bonds, resulting in a huge liquidity crisis.
Last year, we had the spectacle of fertiliser riots and sale under police protection. Only a healthy and profitable sector can expand and re-invest.
This sector too is begging for smarter targeting, based on land holding, or smart biometric cards. Else the word subsidies itself becomes an euphemism for money down the drain. Now that is really injurious to health!