Chandigarh remains the only new independent city of any consequence built in independent India, writes Subir Roy.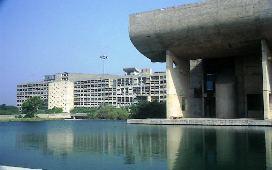 All thought of meeting the urban challenge before the country -- creating the equivalent of 10 new Mumbais to accommodate 250 million in the next 20 years -- is centred on growing existing urban spaces incrementally.
But retrofitting urban centres so that they can both grow and be more livable is an almost insurmountable task.
The country has neither the governance wherewithal nor the resources needed.
Despite this, the one option that is almost instinctively discounted is greenfield cities. Chandigarh remains the only new independent city of any consequence built in independent India.
Not only is the vision needed to dream new cities gone, getting the land has emerged as an almost impossible hurdle in the last few years.
But technological progress in the last 15 years gives some hope. Today, geographical information system technology has captured an incredible amount of digital manipulable data on not just what is on the ground but even under it.
To this can be added the software that makes possible overlay analysis, superimposing one map on another. Armed with these two tools, it becomes surprisingly easy and cheap to do the following:
First leave out all the forests, populated areas and intensively cultivated tracks. You are then left with either barren or single-cropped, rainfed, thinly populated areas where subsistence farmers will, if anything, be happy to hand over their land in exchange for a share in a new productive venture.
Now look underground to see where there are deep aquifers to meet future water needs. And finally see which of these areas are within 50 km or so of either a railway line or a highway.
From this exercise you can select a handful of contiguous areas, each of 5,000 acres or more, which can become the locations for greenfield cities housing a million each, born out of the confidence and capabilities that 9 per cent growth and newly acquired technological prowess have created.
Why 5,000 acres? A minimum critical mass is needed for people to be able to live, work and entertain themselves without having to go out to meet these needs.
Conversations with builders suggest that with this much of development in one location, it will be possible to amortise the cost of infrastructure within a very attractive per-square-foot real estate price, enabled by land bought cheaply from marginal farmers.
All that the government will need to do is provide a high-speed rail or road link.
Then follow two steps -- one easy but the other almost insurmountable. The easy bit is creating a hype over these future cities so as to fire people's imagination.
Just as a Frenchman, Le Corbusier, designed Chandigarh, India can invite some of the best architects in the world to design some of these cities.
In recent years, there is a global trend for cities to get cross-border talent to design their new distinctive public buildings, the main Olympic stadium in Beijing being among the most recent.
Who will not want to live in an affordable, beautiful new city with better quality of life than available anywhere else in the country, provided you get there all that you take for granted in a city?
Here comes the catch. Builders say populating such a city, selling or even renting most of the space created, will take too long in the sense that the payback period will stretch to 10 years or more, making the project unviable.
The dilemma is three-fold.
You need a big enough development for it to be mixed-use and self-contained; you cannot do it incrementally -- expecting people to move in and wait for the hospital to come up once there are enough patients, and selling or even renting millions of square feet of space in one go become almost impossible.
See how DLF abandoned two large projects -- Dankuni in West Bengal, because the government could not deliver land, and Bidadi near Bangalore, because the property market went bust.
If you assume that 50 per cent of the space in a city goes for common areas like roads, parks and water works, a 5,000-acre development means having to sell well over 100 million sq ft.
If this seems daunting, remember that over the next 20 years, the country's urban population will be growing on average at the rate of a million a month. 
Offices and their employees can move in once local transport, hospitals, schools and shops are there. The precursor of any large development is a tent city.
With these come a minimum of transport, health care and retail (shops) services. The construction people who build such projects go there because of incentives. These have to be factored in.
Builders say it will be particularly difficult to sell space to a school or a hospital. So, we may have to amend our earlier statement that the government need only pay for the rail or road spur linking the new city to civilisation.
The government may have to heavily subsidise the real estate cost of schools and hospitals. The 'gap-filling approach', now used for national highway projects, will have to be adopted.
The challenge is to get the first 20 per cent of people to come in, almost at one go. Once that happens, the rest can follow.
The incentive to move into such a city will be the cost of acquiring a superior quality of life at a highly affordable price.
My sense is that if you can find the space to build a city for a million with enough water and a proper rail or road link, then planned sequencing and incentives can change geography in five years. The benefits of that will accrue for the next hundred or more.