General Motors India today said it will independently pursue development of a small electric car and has decided to completely severe its ties with Reva.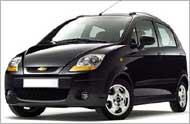 A day after Mahindra & Mahindra bought a majority 55.2 per cent stake in Reva, GM India said it will stop its plan to develop a small test fleet of 15 electric 'Spark' altogether, which was being developed along with with the Bangalore-based firm.
"In March-April this year, we (GM and Reva) had decided to scale back the development of an electric Spark, meant for consumer market, to a small test fleet. But now, M&M buying into Reva, we have decided to stop that as well," GM India president and managing director Karl Slym told reporters in Bangalore.
He said GM India will now independently pursue development of small electric car.
"Worldwide, General Motors has the capability to develop electric cars. Now we will look at internally utilising those capabilities for electric small cars in India, which could be Beat or Spark," Slym said.
He, however, declined to put a timeframe on when an electric GM small car would hit the Indian market.
Asked what prompted the company to pull out completely from the partnership with Reva, Slym said, "Reva technology was taking a lot of time to develop into a commercially viable product. That is why we decided to restrict it to just a test fleet rather than aiming at bringing it to customers."
He also said M&M buying into Reva prompted GM India to completely pull out of the project.
"Had M&M not taken over Reva, we would have continued with the test fleet... We did not come to a final robust solution with Reva," he added.
Besides, Slym said GM India is working on alternate fuels and expects to launch LPG-powered Beat by the end of 2010.
GM India had last year entered into a technical tie-up with Reva to develop an electric version of its small car Spark, which was scheduled to hit the roads later this year.
After joining hands in September 2009, both the companies had announced that they were looking at both domestic and overseas markets for the proposed electric small car based on the platform of the Chevrolet Spark and planned to turn India into a hub for electric vehicles.
The companies had planned to roll out the electric Spark in a series of battery options and price points. The proposed version of the car was planned to have localisation of components of up to 90 per cent.
Both the partners had at that time said that they were open to the option of expanding the electric model to GM India's other cars also.