With the severe lack of public housing, and the recent availability of bank loans, the romantic days of Yeh mera ghar, yeh tera ghar have been replaced by Yeh tera EMI yeh mera EMI, writes Suparna Bhalla.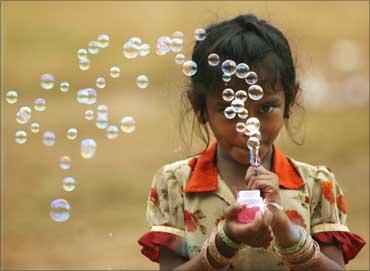 It is no surprise that 27 per cent of the entire population of this country resides in a handful of cities that collectively contribute 60 per cent of the entire gross domestic product of the nation.
A peek outside your airplane window as you land in any Indian metropolis is confirmation of the fact that 26 per cent of Mumbai and an astounding 60 per cent of New Delhi lives in slums or substandard housing.
This after decades of government intervention in public housing -- through state boards and quasi-financial organisations like HUDCO, and even through the new National Housing Policy.
So what happened to the socialist notion of the right to shelter? Ask the migrants who set foot in a city with a bagful of aspirations and dreams in their eyes, only to see both stifled by unaffordable rentals and costly tenements.
With the severe lack of public housing, and the recent availability of bank loans, the romantic days of Yeh mera ghar, yeh tera ghar have been replaced by Yeh tera EMI yeh mera EMI.
Yet no slum dweller can even afford a basic single room unit with an EMI that forms over 75 per cent of his salary. No longer can public housing bodies even pretend to be building for the milling poor who have resigned themselves to the fringes of the city and subhuman conditions.
As we revel in new metro lines and flyovers, wider roads and better electricity, public housing today is either a sham to appease a votebank or, like many a crooked beam in 'government housing', an excuse for pathetic quality that reek of apathy towards the users.
Why? Two simple variables to this equation: land cost, and policy. Land is scarce and costs turn even low- and mid-income housing into gated communities where scooter garages are sold as servant quarters!
Policy is ad hoc and based on data where floor space index and density norms remain incompatible with affordable housing.
The recent increase in FSI allows builders to add more saleable area, yet the decreed density does not allow an increase in the number of units on a site.
It doesn't take a mathematical genius to figure that the net result will be larger apartments (since area has to be consumed and sold) and thus higher-priced homes.
Policy such as this decides who can live in cities and who is evicted. An eminent architect-planner recently lamented that it was 'useless' to even consider contributing to public housing as it was at the mercy of some 'government babu'.
Unfortunately, this is not a cynical statement. Having a bureaucrat determine planning policy is like having a hospital administrator perform a heart surgery, and not the surgeon!
Yet we allow this to happen to our cities with every new master plan. We citizens casually accept the policies and have no role in the process, nor in deciding how our taxes are deployed.
Why is there almost no public participation in decisions that frame the destiny of our cities? Our increasing numbers may make it difficult, yet cities such as Tokyo manage with even higher densities.
In the very fact of our diversity lie ingenious solutions that offer more to public housing than the cookie-cutter forms that stamp our landscape.
We need a platform for informed debate open to users, professionals and academics, national and international. We need a master plan founded on knowledge and competition, and not party politics.
Take recent growth centres with high migrant populations, such as Singapore, Shanghai and Dubai. each has used future-driven planning to leverage and promote growth in its economy, thus providing quality of life and even identity to its residents.
In each, meeting the socio-economic goals only benefited the political agenda; it rarely works the other way around.
Perhaps it is time we raised our expectations. We deserve a civic society where reason drives action, where the right to shelter is fundamental, and where our cities do not merely represent but are also responsible to the collective.
Suparna Bhalla is a Delhi-based architect