Former prime minister Rajiv Gandhi [ Images ] had said that well-meaning programmes meant for the poor did not reach them: the same is true of the NREGA, says Surjit Bhalla.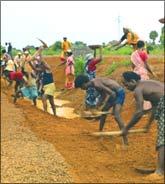 A decade or so ago, Booker prize winner Arundhati Roy [ Images ] claimed that the building of dams in India [ Images ] had displaced more than 50 million people. This implied that one out of every three rural Indians had had to move because of the construction of dams (remember the population was a lot lower when most of the dams were built in the 1950s, 1960s and 1970s).
Upon closer examination, it turned out that the number of people displaced was more than a tenth lower, with the likely estimate of around three million.
It is poetic and novelist licence to indulge in hyperbole; it is quite another matter when official agencies of the government do the same. And especially in the good-governance era of 2010 and beyond.
The latest report of the ministry of rural development, the one in charge of implementing the National Rural Employment Guarantee Act (NREGA), makes an Arundhati Roy-like claim: that as of December 2009, 43 million households had been provided with NREGA employment in 2009-10.
The last quarter of the fiscal year is the largest for such employment: around a third of total NREGA jobs. The projected employment for 2009-10 is likely to be close to 50 million households. There are about 150 million rural households; this Congress party claim is the same as Ms Roy's: one out of every three households in rural areas will have worked under the NREGA!
Even more remarkable -- the jobs are meant to be hard work, menial, at minimum wages and for the poor. In 2004-05, official estimates place rural poverty in India between 20 and 25 per cent. Assuming no improvement in poverty at all -- an extraordinary accomplishment for a government that prides itself on inclusive growth -- 22.5 per cent poor households mean 34 million.
So, the government is claiming that every poor household is covered, and for good measure, 50 per cent more are provided employment.
This superlative achievement is credited by many -- both within the Congress party and the Opposition -- for the Congress party's surprise win in the 2009 elections.
Some of us had predicted such a win, but without recourse to this super weapon of opposition destruction. It was because we had not looked at the government data. In 2006-07, the first full year of implementation, the government claimed to have provided employment to 21 million households. In the space of just three years, the government is claiming to have increased jobs for the poor to 50 million.
No wonder the Congress party won, and won so emphatically. The poor just love the Congress party, because it has stood tall for them.
But has it? It was not so long ago that Rajiv Gandhi had stated that he had found well-meaning programmes meant for the poor not reaching the poor.
Without much scientific basis, he came out with the assertion that only 15 per cent of the expenditures meant for the poor actually reached them. Experts who have tried to test this assertion have found more truth in that statement than almost any other forecast of an economist, defunct or otherwise.
There is a way to test the veracity of Rajiv Gandhi's assertion, and the Congress governments' claim on reaching the poor.
TESTING NREGA ACHIEVEMENTS, 2006-07
 
Ministry of Rural 
Development (MRD)
NSSO
Actuals
Index
(** = 100)
Actuals
as % of 
MRD*
as % of
MRD**
1. NREGA FINANCIAL DATA (IN RS CR)
Total funds available
12,073
137
 
 
 
Funds utilised (MRD - **)
8,823
100
 
 
 
Funds utilised as wages (*)
5,842
66
3,000
51
34
Wages on poor
 
 
1,270
 
 
Rajiv Gandhi Index (% of funds reaching the poor - **)
 
 
 
21
15
Average wage, per day per person (In Rs)
 
 
90.00
 
 
Average wage per day per household (In Rs)
65
 
65
 
 
2. NREGA PHYSICAL DATA
No. of households (in Cr)
2.1
 
1.7
 
 
No. of workers (in Cr)
 
 
2.4
 
 
Person days (in Cr)
90.5
 
46.5
 
 
Person days per household
43
 
27.2
 
 
Person days per worker
 
 
17.5
 
 
Note: The poor identified in NSSO 63rd round, 2006-07, according to monthly per capita expenditures, being below the official 2004-05 poverty line for different states and extrapolated for 2006-07 according to the rise in the CPIAL index.
* Funds utilised as wages;  **Total funds utilised
In 2006-07, in the 63rd round of the all-India NSSO survey, a special question was asked of those above the age of 15: Did you work in a public works programme during the last 365 days, what wage did you get and how many days did you work? Answers to these questions are reported in the Table (above) along with the statistics from the ministry of rural development.
The latter are for the period of April 2006 to March 2007; the NSSO figures are for the period of July 2006 to June 2007. To the extent rapid expansion of the NREGA is true, the NSSO figures are an over-estimate of the 'true' financial year figures.
The first figure of note is the fact that the NREGA was not able to spend all the money allocated for it; indeed, it spent less than three-fourths of what was allocated. Of course, those were early days of the programme, but even in 2008-09, when allocations reached Rs 30,000 crore (Rs 300 billion), the NREGA authorities were able to spend only 73 per cent.
The ministry claims only Rs 8,823 crore (Rs 88.23 billion) was spent in 2006-07, and two-thirds of this amount (Rs 5,842 crore or Rs 58.42 billion) was spent on wages. The rest are administrative costs, capital equipment, etc -- i.e., Rs 3,250 crore (Rs 32.50 billion) was spent to facilitate expenditures.
But was this money ostensibly spent as wages -- Rs 5,842 crore (Rs billion) -- received as wages by NREGA workers? According to the NSSO, only half of the expenditures allocated as wages was received as wages -- Rs 3,000 crore (Rs 30 billion) received versus Rs 5,842 crore meant to have been received.
Even less went to the target poor worker. The NSSO reports that NREGA wages received by the poor were only Rs 1,270 crore (Rs 12.70 billion).
Let us ponder over this figure for a little while. The government announces with much fanfare that it is spending a lot to fight hunger, poverty, injustice and inequality.
Despite repeated evidence for the last 20 years that 'in the name of the poor programmes' reach everybody but the poor, the well-meaning socialist but not-so-realist Congress party renamed and expanded existing food for work programmes under its own Congress brand as NREGA, and now MREGA. (Ironically, but poetic-justice style, the latter acronym also means 'to die'!).
It spends Rs 8,823 crore on the programme in 2006-07 (and Rs 39,000 crore or Rs 390 billion in 2009-10) and is able to actually deliver only 14.7 per cent (Rs 1,270 crore) to the targeted audience?!
The figures suggest that Rajiv Gandhi, the enlightened pragmatic realist, was extraordinarily right.
The author is the chairman of Oxus Investments, an emerging market advisory and fund management firm.