Mamata Banerjee's decision on land acquisition policy for dedicated freight corridor has very serious implications, says A K Bhattacharya.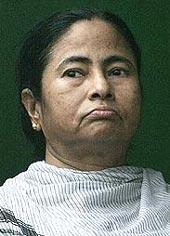 Rail Bhavan mandarins are quick to point out that in spite of their many similarities, Railways Minister Mamata Banerjee and her predecessor, Lalu Prasad, are different at least in one crucial respect.
First, let us look at the similarities. Both display great attachment to their respective states -- Banerjee to West Bengal and Prasad to Bihar. Both would stay away from their office in Rail Bhavan for several days in a week. Both are grass-roots politicians and are unconventional in their approach to politics.
However, the two leaders differ in a critical area, which has already made a big impact on the functioning of the Indian Railways.
In most weeks, when Parliament would not be in session, Lalu Prasad would reach Delhi by a morning flight on Friday. That is the day when he would meet his officers in the railways ministry. At the end of the day's work, he would convene a special session in which his advisor would present before him all the files awaiting his clearance during the week.
His advisor would brief him on the implications of proposals on each of those files and then the files would get his signature after some deliberation if necessary. By a late evening flight, Lalu Prasad would return to Patna.
Mamata Banerjee is different.  She is yet to put in place a system by which the railways ministry's decision-making process is not unduly affected because of her preoccupation with West Bengal politics and long absence from Rail Bhavan. Unlike Lalu Prasad, she has no trusted advisors in Rail Bhavan whose recommendations she can use to expedite clearance of files.
On average, the railways minister has to clear 50-100 files a week. Lalu Prasad would clear all of them in his Friday sessions every week.  In sharp contrast, Banerjee has allowed the files to pile up in her office in Rail Bhavan. According to one estimate, made by a Rail Bhavan official a few weeks ago, the number of files pending her clearance rose to 600.
Since that virtually brought the railway bureaucracy's functioning to a halt, Banerjee decided to initiate some action on the files. But without a system of having an advisor who could guide her on these issues, she made little progress. Many of those files were thus returned to various departments with her comment: Please review.
Rail Bhavan officials are deeply perturbed over the slow pace of railway work caused by such ministerial indifference. They may still find some solution to the problem of delayed clearance of files. But what has caused a bigger panic among them is the railways minister's moves that strike at the very root of the Indian Railways' viability.
The dedicated freight corridor project is widely acknowledged to be an initiative that is vitally needed to ensure healthy and sustained growth of the Indian Railways' freight traffic.
The haulage of freight traffic by the Indian Railways has not kept pace with the Indian economy's growth as roads and pipelines have taken away large chunks of business that should have otherwise gone to the Railways.
While putting an end to the practice of subsidising passenger-carrying costs through freight rates may be one solution, a step that needs to be taken at the same time and with greater vigour is to provide dedicated tracks for freight movement on key routes. 
The dedicated freight corridor project, therefore, will help avoid the pressure of passenger trains on tracks and improve the average speed of goods trains to go up to an estimated 60 kilometres an hour, which hopefully will bring back a lot of freight traffic lost to roadways and pipelines. 
These grand ideas, however, may not fructify with the latest hurdles that the Indian Railways will now face while acquiring land for laying the parallel tracks for the dedicated freight corridor project.
Banerjee has mandated that the Railways would return the land notified for acquisition to anyone who may have objections to giving it up. The solution offered by her is that if necessary the Railways will explore an alternative route.
Rail Bhavan officials are not happy with this solution. They argue that once the dedicated freight project's tracks are not parallel to the existing railway tracks, then there would be political pressure on the Indian Railways to allow passenger trains to run on them, thereby reducing the speed of the goods trains. If they remain parallel tracks, such political demands are not likely to be made.
The pity is that the committees that are monitoring the implementation of the dedicated freight corridor project are not fully aware of such serious implications of exploring alternative routes for tracks in segments where the Railways have faced objections to their land acquisition programme.
Rail Bhavan officials are hoping that Mamata Banerjee will realise the importance of a dedicated freight track for growing the Railways' goods traffic at a healthy pace.