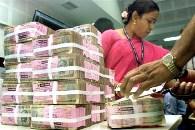 Are the government and the Reserve Bank of India (RBI) clueless about inflation? T N Ninan explains.
One way to judge is to look at what their leading lights have been saying. For instance, the RBI governor, D Subbarao, declared last November that inflation would be 6.5 per cent by March (earlier, RBI had put out a figure of 5 per cent).
The Planning Commission deputy chairman, Montek Singh Ahluwalia, declared, also in November, at the India meeting of the World Economic Forum, that "we are on target for anything near 5-6 per cent inflation".
The reality for March has proved both hopelessly wrong, since the figure is 9.9 per cent - an increase from the 8.9 per cent of early November, when the promises of falling inflation were made.
November, Mr Ahluwalia had gone on to say that the real worry was food price inflation, which too he expected would come down by the end of the financial year.
Wrong again, because the reality is that food price inflation has gone up, not come down - from 13.3 per cent in October to 16.6 per cent in April.
Others were closer to the mark. The prime minister said at a meeting of chief ministers in early February that "the worst is over… we will soon be able to stabilise food prices". He was right, in that food price inflation in February was 17.6 per cent.
The Cabinet secretary went a step further at the end of March, declaring that sugar, edible oil and lentil prices were now falling, while grain and vegetables were stable.
The problem is that the government's statistics don't catch this, because inflation numbers compare current prices with those of a year earlier; there is no indexed comparison of prices with the previous week or month.
Nor is there any adjustment made for seasonal factors - you would expect post-harvest prices to be lower than pre-harvest, but that may not mean any real change in underlying inflation trends.
The question is: if the government underestimated the size of the inflation problem, did it go wrong on macro-economic policy? The answer is that it almost certainly did.
If Pranab Mukherjee had known in the summer of 2009 that wholesale price inflation in March would be near double-digits, would he have budgeted for the huge fiscal deficit that he did, since deficits are usually inflationary?
Indeed, should he have been more aggressive on fiscal tightening, in his Budget for the new year? Similarly, if RBI had estimated last November that inflation in March would be 9.9 per cent, and not 6.5 per cent, would it have tightened monetary policy faster and harder? It would seem that the answers to these questions are all in the affirmative.
On the evidence at hand, therefore, it is clear that both the government and RBI erred in their judgments on what was required of fiscal and monetary policy. The easy cop-out of blaming a bad harvest and international price movements is not convincing, since the forecasts of low inflation were made well after the monsoon season was over.
The result is that the country now has a bigger inflation problem than it had been led to expect, and no one now knows when inflation will drop to the comfort zone of 5 per cent.
Certainly, no one in the government is making confident forecasts of the kind we saw in November.
This failure of basic short-term policy is surprising, given the star power that this government brings to its economic management. One can speculate on the reasons for this, but the important point is to not continue getting it wrong.