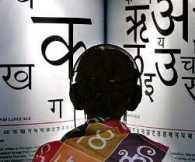 A touch-screen computer on classroom tables in New Delhi helps activity-based learning go online, says Sreelatha Menon.
Do children love school? Not many do. They are sentenced to 15 years of force-feeding which makes them suitable to be cogs in the wheel of the social/industrial system.
No one questions why children have to be taught so much of everything. As author and thinker, Ken Robinson wonders why children are not taught dance, music or theatre, or anything they may want to do other than the main subjects? Why can't music be the main subject of some students at the school level?
The good thing is that such questions are being asked more and more in India and abroad.
While Robinson accuses schools of killing creativity, in India, education is more about building toilets and fixing taps, serving food, choosing between para teachers and graduate teachers, about having a classroom for every 30 students rather than for every 60-90 students. But, beyond that, few questions are emerging out of even the silver head of Education Minister Kapil Sibal.
Experiments with alternative primary education system, as Sugata Mitra calls his 'hole in the wall' experiment done for NIIT, are aplenty.
In many places, it is information technology that is being used to make education a more democratic and participatory process.
As Mitra says, the goal is to make education fault-tolerant, least invasive and self-organising.
The NIIT researchers' experiments are well known and many "holes in the wall" initiatives in different parts of India and abroad are being taken by schools, as unlettered children chart their own itinerary of learning, assisted by nothing more than an internet explorer.
University of Bristol computer science reader Sriram Subramaniam is on a similar journey as Mitra. Subramaniam is, in fact, partnering with NIIT.
His gadget is not the ordinary computer that Mitra fixed into the walls of sundry buildings across the country for use of children. He has assembled two PCs along with a camera and a projector in a horizontal fashion to form the top of a typical classroom table.
So, if there is a table with a touch screen, as in Apple iphone, eight children can easily form their own questions and find answers.
So, in a class of 40 students - the Right to Education Act now forbids classes with 90 children - you need five such tables. The children can be divided into groups of eight and learn on their own on the basis of diagrams, charts and graphics prepared by their teachers. What this offers is the online equivalent of activity-based learning which is now being introduced in small doses in many states.
Subramaniam and his group have installed these table-tops in two schools in New Delhi, one private and one government, and are thrilled to see the excitement of the children who are now able to provide inputs for what they learn.
In fact, the team plans to design course material with inputs provided by students themselves, which they feel is possible.
This will make their education more complete, he says.
The technology is simple, open source and so available for anyone who wants to make and sell it, which ensures that it is priced low. He says it will not make 'one laptop per child' outdated or irrelevant.
A child can take it home. This complements it by introducing group learning, he says.
Where does that leave the teacher? In the background.