It will be a sad day when most of India will shop only inside enclosed, characterless shopping malls, writes Arvind Singhal.
Not so long ago, Delhi's South Extension market was not only the best performing retail market in the NCR but, arguably, was also the top performer across India in terms of retail sales productivity.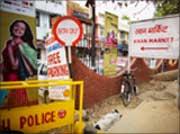 Rentals at traditional marketplaces such as Khan Market (in Delhi again) touched such stratospheric levels that they could be comparable to New York, and London, and Paris. Other ultra-premium locations such as Connaught Place and Greater Kailash-1 in Delhi, Linking Road and Warden Road in Mumbai, and Commercial Street and Brigade Road in Bangalore had brands and new retailers stand in long queues waiting for a location to open up for grabs.
Landlords could demand, and get away with, ever-escalating rentals even as the physical infrastructure in these premium markets decayed further with broken/encroached upon corridors, horrendous parking lots, fumes from power generators, and blasts of hot air from air-conditioning and other exhausts.
It has taken just one single year to get many of these marketplaces come crashing down, and indeed, some face imminent identity crisis even to survive as a retail destination! Delhi's (PVR) Saket and Basant Lok markets are two such examples which were among the trendier retail destinations till a year ago, and are now already facing an exodus of trendy retail and eating outlets since footfalls have dwindled precipitously in the last few months alone.
The primary cause of this upheaval is the launch of modern shopping centres in close vicinity. While all the eight metros and mini-metros across India have seen emergence of several new shopping malls in the last five years, it is only now that the newer malls are more appropriately conceptualised and tenanted.
South Delhi, Saket and Vasant Kunj have seen a clutch of very successful shopping malls emerge in the last 12 months which provide a shopping and entertainment variety, comfort and an overall experience that is simply incomparable to that provided on the traditional high streets.
With hundreds of new shopping malls slated to come up in the top 80-100 cities in the next five years, the impact on the traditional marketplaces will be very similar to what is being experienced in Delhi, Mumbai and Bangalore today.
While the consumers may not mind this shift in the near term, the implications for the cities' landscape will be disastrous. With India probably being the only major country in the world which does not believe in razing derelict buildings or even complete commercial or residential centres to make way for modern re-developments, these marketplaces are likely to decay and add to the rapidly growing quantum of otherwise prime residential, commercial and retail space that is grossly underutilised or wrongly utilised relative to its potential, all across India.
How can these markets reinvent themselves to remain contemporary and attractive to premium shoppers? Firstly, the landlords and/or tenants (in case of Delhi, due to the anachronistic rent control laws, many landlords have no interest in putting in any money for maintenance of their property since they get just a pittance as rentals) in each of these markets and high streets have to come together to generate funds to carry out immediate renovation and modernisation of the entire market/shopping street, including repairs of footpaths, improving parking facilities, standardised fascia, and better landscaping.
They then have to create, somehow, a better overall shopping experience for the potential shoppers by offering more relevant retailer and food/beverage/entertainment mix.
They can even contemplate creating "market-based" loyalty programmes rather than individual retail outlet-based so as to encourage more and better footfalls, and come up with periodic promotions and festivities for the entire market and shopping street. Complimentary, and perhaps valet-assisted, parking will help further.
The local municipalities also have to pitch in by deploying a part of their resources to improve the overall quality of approach roads, sanitation and general upkeep. Where funds are available through the Jawaharlal Nehru National Urban Renewal Mission, they should be deployed towards upgrade and modernisation of the traditional shopping streets and marketplaces, including creation of multi-level parking lots and additional public conveniences, improvement of pedestrian walkways and general restoration of various structures.
Indeed, it will be a sad day when most of India will shop only inside enclosed, characterless shopping malls, leaving the Colabas and South Extensions and Commercial Streets to fall derelict.