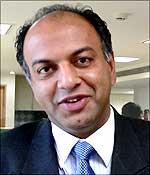 Hot on the heels of her fabulously successful first book Stay Hungry Stay Foolish (SHSF), Rashmi Bansal has produced a sequel - well, sort of, says Sanjeev Bikhchandani.
Connect the Dots (CTD) tells the stories of 20 regular people who became entrepreneurs and made a go of it.
While SHSF told the stories of 25 alumni of IIM Ahmedabad who had chosen to become entrepreneurs instead of employee managers, CTD makes it a point to focus on entrepreneurs who did not have a formal management education.
The message to young readers is clear - you don't need to be from an IIM to build a successful company.
While some of the entrepreneurs the author has chosen to cover in her book are from privileged backgrounds, many are not. Some haven't even done college, forget about an MBA.
There is nothing more inspiring than the story of a boy born on the wrong side of the tracks making it big against all odds.
Reading the story of Prem Ganapathy of Dosa Plaza, I could not help believing that India is a meritocracy or at least the land of opportunity for any enterprising person who is willing to work hard.
In 1992, a young lad of 17 leaves Chennai and comes to Mumbai with an acquaintance to explore opportunities. He gets abandoned at the Bandra station and, with no money in his pocket, takes shelter in a nearby temple, and then gets a string of small jobs in the kitchens of various eateries.
Being a Tamilian, he faces discrimination. However, he is enterprising and when he finally gets a customer-facing job -that of serving tea - he quickly begins to generate three times the business of the other tea boys because he is so good in handling customers.
He enters into a partnership to start a tea stall only to get duped by his partner after the business is successful. He is intelligent and learns from the experience. He then breaks out on his own and ends up running a successful South Indian food stall and learns the trade as he goes along.
This food stall grows into a chain of 25 Dosa Plaza outlets with a franchise in New Zealand and enquiries from other countries.
Or take the story of Kunwer Sachdev of Su-kam. Born into the family of an Indian Railways clerk who ran a string of small unsuccessful businesses on the side, Kunwer went to a Hindi-medium government school. From there, he pulled himself up by his bootstraps and went to college, and after some years of stopping and starting created Su-kam - India's largest inverter company. Who says India cannot do well in manufacturing? That India has to be a services-led economy? That Indian companies cannot do R&D?
Samar Gupta's Trikaya Agriculture tells us that there is still hope for Page Three people. Born into a privileged family, educated at Mayo College in Ajmer and living on Napean Sea Road, Gupta tried to do several things unsuccessfully.
Much of his time, however, was spent partying hard. When his father died and he inherited the family farm, he got serious about growing exotic vegetables and creating a market for them in Mumbai. Trikaya Agriculture today is a success story.
Or, take the case of R Sriram of Crossword. An introvert, a college dropout, who does not believe in the institution of marriage. He tried his hand at advertising, market research and then journalism. Finally, he converted his passion for reading into a business - he started India's largest book store chain Crossword.
And there are many such inspirational stories in this book. Each one is different and engaging.
The book is a non-fiction page turner. As Bansal herself admits, she was working with wonderful subjects - the entrepreneurs themselves - and that made her job easier.
Nevertheless, she does an admirable job of getting the entrepreneurs to reveal all without any trace of embarrassment - that's a rare quality. Bansal is an entrepreneur and a journalist herself.
That's an uncommon combination and it makes her uniquely qualified for an effort of this nature. The book is written in a chatty conversational style with liberal use of Hinglish. If you are looking for award-winning literary prose, this is not the book for you.
For me, Rashmi Bansal is a star (disclosure: she featured me in SHSF). Her efforts in documenting the stories of successful first-generation entrepreneurs in India have done more to inspire young wannabe entrepreneurs than anyone or anything else.
SHSF has sold more than 200,000 copies (people in the book trade tell me that this is roughly how much a Harry Potter volume sells in India) in India and has been translated into eight languages. When the history of the entrepreneurial movement in India is written, her two books will be regarded as significant milestones.
CTD, just like SHSF, is a must read for all entrepreneurs, managers, students, and anyone interested in the new India.
I would definitely want my children to read it. It is inspirational stuff.
The reviewer is co-founder and CEO of Naukri.com.