The super-busy executives around you may make you feel redundant if your mobile is silent on a family holiday trip, writes Shyamal Majumdar.
The palm-coconut-fringed beach, white sand and crashing sea waves may be a feast for the eyes, but Mr Super-busy Executive is watching them as dispassionately as he would look at the Mithi river (in a prominent Mumbai intersection) every morning on his way to office. For, his mind is in a different world - where he is either the boss or a wannabe. Who cares for as mundane a thing as the Arabian Sea in Goa?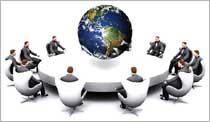 Mr Executive - and there are scores of them, actually - is all physically present on the beach but talking furiously on his Blackberry or sending must-do messages to his office staff.
Meanwhile, his family gets bored after a while and ventures out into the sea on their own. A 12-something girl was complaining to her mother that dad seemed to love his other "baby" more than her.
Her dad may well be one of those countless obsessive micro-managers who would give assignments to their juniors but then manage them to death. These managers trust their teammates exactly the way one would trust a five-year-old behind the wheel of the car.
But the sight of these super-busy executives can be disconcerting - for, if your mobile is silent and your laptop is blissfully sleeping in your hotel room on this family holiday trip, chances are you may start feeling that you are an inadequate and redundant manager.
For, over 500 emails in your inbox or quick video conferences with the boss or team members even on a holiday seem to have become more a norm than an exception.
These bosses may be sleeping with their mobiles as well. In any case, it's the last thing they look at before going to bed and it's also the first thing they look at when they wake up. And such habits indeed die hard.
And today's corporate world, it seems, is indeed being dominated by people like them - executives who are in a rush to take the escalator to the corner office while the stairs are visited only by the office staff who clean them. Holidays, for them, have become only working holidays - with emphasis on "working".
Listen to one of them - the vice president of a Mumbai-based FMCG firm. In one of those rare moments when his Blackberry is silent, the super-busy executive says this is his first break from work in the last three years as he had no option but to be a workaholic in today's fast-paced corporate world.
"I am only physically absent, but virtually present in office through technology. I can hardly afford to allow my team to drop the ball in my absence," he says.
The vice president is one among thousands of executives who have perhaps forgotten that clubbing professional and personal commitments like having a well-deserved break in the name of multitasking is a sure recipe for disaster.
Also, there are many who are insecure and try to build a safety net around them by either being workaholics and trying to score brownie points with their seniors or attempting to manage their team through remote control.
The sad part is most of them deeply resent the fact that their bosses either take all the credit for themselves, or think they had no life outside work, or give out too many tasks with impossible and constantly changing deadlines.
But the sadder part is that the tradition is being continued by those who were at the receiving end earlier. No wonder, an informal study in India a few years ago found that almost 75 per cent of the employees surveyed identified their bosses as a lousy managers.
The major reason that there are enough bosses who can convert your life into a Dilbert strip is the faulty executive promotion policies practised by many companies, which results in converting exceptional performers into mediocre or substandard managers.
The pressure of the past couple of years has been severe as the economic slowdown has prompted a near-automatic reflex on serving bitter pills: Hunker down, reduce head count, and cut every cost you can.
Predictably, Indian companies have gone in for multitasking (do at least two person's work for the price of one) and extended working hours (12-hour days are not unusual anymore).
In such a scenario, work-life balance has gone for a toss. Over the last few years, more and more people are having to spend more and more time at work, and less and less time on "life".
And it's not an India-only phenomenon anymore. A survey by AlphaRooms.com in the UK showed that 80 per cent of Britons worried about their work while on holidays, while three-quarters made or took a work telephone call while on holiday.
AlphaRooms.com is now calling for Blackberries to be banned from the beach and for a return to holidays being an escape from the trappings of work pressures and day-to-day stress.