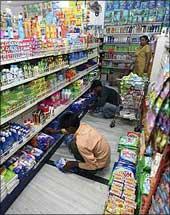 The booming recruitment environment that B-schools experienced in 2007 could be back on the campuses next year as the fast moving consumer goods (FMCG) sector is planning around 40 per cent increase in the number of pre-placement offers (PPOs).
The Indian FMCG companies, especially those expanding their portfolio at a rather fast pace, like Godrej India, are bullish about PPOs this year and claim to be targeting an increase of 40-50 per cent in recruitment.
"We prefer the PPO route as the quality of understanding of the employee is far more as they spend two months in the summer just understanding the company. We are also able to tell whether a student will be suited to the job profile. Besides, the final placement time in the colleges is quite chaotic," said Sumit Mitra, executive vice-president (HR), Godrej Consumer Products Limited.
Companies like Cadbury has already made a Rs 1-lakh (Rs 100,000) offer for a two-month internship to a management graduate from Mumbai-based National Institute of Industrial Engineering.
Management students are at present undergoing summer internship at various companies. Post the internship, these companies make job offers to the students, which are called PPOs.
"There will be an increase of more than 20 per cent of the number of offers we plan to give out this year to students from all the Indian Institutes of Management (IIMs), Symbiosis, SP Jain, among others. PPOs to us are important in order to create a talent pipeline," added Mitra.
FMCG majors say though there had been a slight slowdown in the number of students who opted for a placement in their sector due to the entry of various other options, including global financial consultancies, the number of students employed in the consumer market was still strong.
Industry experts say this year's pre-placements are important as these PPOs would be given out post a relatively recession-free economy. Also, with more than 15 per cent of the students from the top 20 B-schools being employed in the FMCG sector, it became a tough situation when recruitment was on a downturn.
"The consumer sector by and large has been a key recruiter for B-schools for a while now and it certainly creates headroom for more employment opportunities," said a senior sector analyst.
Besides, it is not just the Indian players who are reaping benefits of recruitment in FMCG. International players such as PepsiCo have a lot to be happy about this year. "Our India sales have seen an upturn in the past few years and as a result we will increase our PPOs by 50 per cent as compared to the past few years. This year alone though, we are looking at an increase in PPOs offered by 20 per cent. The reason for this increase is high expected growth in the coming years," said Nagina Singh, head-staffing, PepsiCo India.
For starters, the Indian Institutes of Management are seeing the old campus favourites like ITC, Kelloggs, PepsiCo, Marico, Amul and Britannia back on summer recruitment drive. "Most FMCG firms are preferring the PPO route this year as they seem satisfied with it in the past," said Chirantan Shah, placement coordinator, IIM–Kozhikode.
Sector analysts believe with more positive economic sentiment, the end of this year may see the booming recruitment environment that was experienced in 2007.