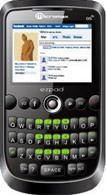 Indians buy an average of 12 million mobile phones a month, creating a market of anywhere between Rs 28,000 crore (Rs 280 billion) and Rs 35,000 crore (Rs 350 billion) per year for those retailing mobile handsets. The explosive growth is the reason why newcomers keep trying to enter the market which continues to be dominated by the Nokias and Samsungs.
Though Micromax sold its first mobile phone just two years ago, it appears confident it can pull off a coup - it already has a 5 per cent market share. It has roped in actor Akshay Kumar as a brand ambassador; sports a new tagline of "boring is out" and is looking at innovative means to grab market share.
One of these, for instance, is a mobile phone that also doubles up as a remote control for your air-conditioner, TV set or DVD player, perhaps even all three.
There have been innovative co-branding deals with MTV which have helped give the brand a huge push in the youth market. Phones with Swarovsky crystals on each key have also been introduced for those looking for low-price chic.
Rahul Sharma, one of the four co-founders of the company and its COO shares his plans with Priyanka Joshi.
Excerpts:
How did Micromax get the kind of growth it did, especially in entry-level mobile devices?
People who want to buy a mobile phone worth Rs 2,000 don't usually ask for brands, they want value for money. So, instead of trying to get more sales by cutting prices, we sold handsets that came with a 30-day battery back-up - this was an important advantage in rural areas where charging a mobile phone was a problem.
We also sold dual-SIM phones that made more sense for Tier-2 or Tier-3 markets where customers own several SIMs. Of the 26 models that we have in the market right now, 23 are dual-SIM handsets.
It is this kind of ground-level innovation that has led to Micromax selling about 1 million handsets every month. We expect the number to grow further with new handsets that we plan to launch this year.
Isn't the mobile phone space getting over-crowded with over 40 brands of handsets, and so many of them looking practically the same?
Yes, it is a crowded market but Micromax is getting ahead as it won't be putting out a "me-too" handset for the consumers.
For the premium category which solely comprises of QWERTY keypad handsets, this year's focus is to ensure the consumer gets simple chat-based tools in the handsets. It is this category that sees sales of nearly 3 lakh units a month, at an average price of Rs 5,000.
Today, we sell about 80,000 QWERTY handsets a month, and have started working with social networking sites, such as Facebook, to ensure better connectivity and continuous communication on our handsets.
We are also looking at licensing deals with established brands. Last year, Micromax launched a range of MTV co-branded mobile handsets in the market. This worked well for us as it instantly created brand recognition for the mobile phones.
The first phone, Micromax MTV X360, was priced at just Rs 5,000, and yet it was equipped with 3D surround sound from Yamaha & Wolfson and had a sleek steel finish.
How exactly do you carry out research and develop handsets?
We have a 40-people team that work on all sorts of crazy ideas that we suggest. The latest that our R&D team has managed is phones that can also be used as a remote control for consumer durables in a household, say a TV, an AC or a DVD player. We are also seeing an increasing preference, among the youth, for mobile devices that provide single-click access to popular social networking sites like Facebook and Twitter.
We also realised that we need not launch handsets to reach premium customers but we need to launch premium handsets for the mid-market customers. So, we created Q55, a clamshell phone which had Swarovski Crystal on the keys and priced at just Rs 5,500. We made it for women in smaller towns, like Hapur and Belgaum, who would take to the chic appeal of this handset.
How are you doing things differently as far as handset innovation is concerned?
We have identified tonnes of things that can be done with a handset, and it is up to our R&D team to turn those ideas into reality. We have also announced our intentions to enter the markets in Latin America and Nepal. So, we have set up a manufacturing facility in Himachal Pradesh and extended manufacturing contracts with about 10 factories spread across China, Taiwan and South Korea. We are in the process of tying up with large-format retail chains to tap the next set of customers.
We have every reason to believe Micromax can touch a turnover of Rs 3,000 crore (Rs 30 billion) next year.
Since we've seen a distinct growth in sales among the youth, we have roped in Akshay Kumar who can communicate the innovative features of our phones to the target audience - these include features such as a memory card which adds more capacity to the handset, better music, better camera quality and so on.
Needless to say, having Akshay Kumar as a brand ambassador also gives our brand a trendy look. We will be spending nearly Rs 60 crore (Rs 600 million) in above-the-line activities that will include print, TV and radio marketing initiatives and Rs 40 crore (Rs 400 million) in below-the-line activities this year.
Since the top four device vendors have turned to app stores to diversify their portfolio, does Micromax have any plans to add newer capabilities to its portfolio?
We are in the process of bringing in new mobile services that will be based on utility apps like location-based social networking or GPS-based tracking systems. Although we have third-party developers who are working to create apps for out handsets, we are doing a lot of work internally to create mobile phone apps.