Infosys Technologies, India's second-largest information technology services company, is known for giving a conservative outlook and then outperforming it. While its fourth quarter net profit growth was almost flat, there are reasons to be upbeat about performance. The company outperformed all parameters - growth of main service lines and industry segments or adding record numbers of clients . S (Kris) Gopalakrishnan MD and CEO of the Bangalore-headquartered company, spoke to Business Standard on the outlook for company and sector. Excerpts: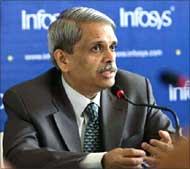 So, can we say the recovery has happened and your performance is an indicator?
Last year, we saw a decline in IT budget of most customers, but this year we are clearly seeing these budgets are going to be flat or may be even slightly up. In that sense, it is a better position to begin the year. We have seen two quarters of good growth - 6.8 per cent in Q3 and 5.2 per cent in Q4 on a sequential basis.
And, then, our guidance (prediction) of 16-18 per cent growth (of revenue in dollar terms) is based on data and information we have collected from our clients - how and where they are investing.
Are you seeing the outcomes based on the data provided by clients?
We had significant client additions in the just-ended quarter. Last quarter (Q3), our top 10 clients grew, this quarter the top 25 clients grew. We have a model for forecasting. That model proved resonably good.
So, are you optimistic now or still 'cautiously optimistic'?
The key difference now is, although businesses are looking for investment, their horizon is actually short term. It's a function of the overall economic environment - unemployment is still high. We are preparing ourselves in terms of having a sizeable bench (staffers with no other work or commitments), so that this can accelerate growth when opportunities come.
What are the changes when compared to the last one year?
Lots of things have changed between 12 months back and now - financial services, manufacturing are doing well. That's the reason for the guidance of 16-18 per cent revenue rise.
Which segments drove growth in the last quarter?
All verticals have driven growth. If you want to compare with the last quarter, manufacturing has stood out. But, growth has been all around and in all verticals. We did not see much growth in telecom because of just one client issue. Most growth has come from consulting enterprise solutions.
Your acquisition strategy seems to have taken a back seat. Any regrets for the missing opportunities?
We have no regrets at all. We are doing reasonably well and will strive to do better. That has to be the mantra for any individual or company.
Your competitors are getting more aggressive in their acquisition strategy - they closed 20-30 deals during the last two years.
Two types of acquisitions are possible. One is of a company in the same industry and the second is acquisition of a business from a client. We are now talking about acquisition of a company from the same industry. We also have done acquisitions of business from our clients.
We don't want to be completely dependent on this, and we also don't want to be aggressive because history has shown that 70 per cent of acquisitions do not yield the value they are supposed to deliver. That's why we are careful.
How much do you intend to shell out in this?
Typically, we would look at smaller acquisitions, up to 10 per cent of our revenue and size, so that integration risks are minimum.
The Centre has said it would invest heavily on various eGovernance initiatives? Have the results started reaching firms like you?
One of the largest investors in technology space in India is the government. This helps the IT industry, technology, improves governance and gives citizens the opportunity to access government-run programmes. We are looking at growth of 8-9 per cent in India.
Is large-scale hiring by IT firms back?
We ourselves have given 19,000 offers in campuses. So, clearly, I see the industry is increasing recruitment. Many of the other companies are also looking at adding employees. So, this is a good time for employment in the IT services industry. Growth is back, employment is back and that's positive.