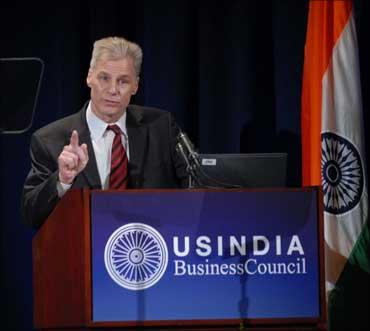 Although elated over Washington and New Delhi [ Images ] completing protracted negotiations on reprocessing United States-origin spent fuel, there is angst in American business circles that the civil nuclear liability bill is yet to be taken up in India [ Images ].
Ron Somers, president, US-India Business Council, which lobbied to get the US-India nuclear technology deal approved, like the rest of the American business fraternity, is upset by India's recent purchase of nuclear reactors and sophisticated technology and weaponry from Russia [ Images ].
Following India's purchase of nuclear reactors and other sophisticated technology from Russia, is there growing concern that things are moving slowly on the civil nuclear liability bill in India? Are you worried that US companies that went to bat for India in Congress over nuclear technology, are being left behind, and the Russians and French are moving in?
We do not shy away from competition. We believe that we produce the best technology and, therefore, the only request is that we have a level playing field.
It's not just about the $100 billion opportunity of 20,000 to 30,000 megawatts over the next 30 years in India. It's about the United States and India cooperating to provide civil nuclear power for the world.
It's in the interest of Indian corporations as well to ensure that liability is limited in case of an accident, so that if we are developing projects overseas as partners and there is an accident, there is a limitation to that liability.
In what way?
It will enable the distribution of funding to those people who have been hurt more quickly and with complete transparency.
The point I was making is that US companies did much of the heavy lifting from 2005 to 2008, resulting in the civil nuclear cooperation agreement and the accession of India to the Nuclear Suppliers Group, but we welcome competition.
We'd just like to be able to move rapidly among that competition.
India's Foreign Secretary Nirupama Rao [ Images ] last month said that after the parliamentary recess the government would introduce the bill. But with the Left Front and the Bharatiya Janata Party [ Images ] opposing the bill, delays are likely, while America wants urgency.
This should not be viewed as Americans always wanting something. This will ultimately benefit the Indian corporate sector -- Bharat Forge [ Get Quote ], Reliance Energy [ Get Quote ], Reliance Industries [ Get Quote ], the Tata Group, GVK, GMR, Larson and Toubro.
All these companies at some point are going to need this liability limitation. Also, it is very important that the work being done in the Indian Parliament is consistent with the language of the Convention on Supplementary Compensation for Nuclear Damage.
Are you confident that the deal can be consummated before or during President Obama's [ Images ] visit to India this summer?
With the successful conclusion of the reprocessing agreement, we have to move fast-forward into the two implementation aspects of civil nuclear cooperation. But it is important that we get the language on liability limitation right and it has to be consistent with the CSC (Convention on Supplementary Compensation), like it is with other countries of the NSG.
With just a couple of technicalities left to be sorted in the reprocessing agreement, are you confident that once the President sends it to Congress, it will sail through like the civil nuclear cooperation agreement did during President George W Bush's [ Images ] time?
The civil nuclear cooperation agreement was cleared 359 to 68 in the House and 85-12 in the Senate. Maybe it's going to be the importance of our relationship with India that will bring bipartisanship back to Washington. I see no problem in getting it cleared in Congress.
Again, are you confident that the deal will be ready for US companies to start selling reactors and technology during President Obama's trip to India?
We are aiming to get this concluded before the trip so that it is part of the deliverables that can be presented to India. This is just the consummation of greater commerce and trade between our two countries.
What is the USIBC doing to make the President's visit to India not just a memorable trip for the first family, but one with tangible mutual benefits?
The USIBC will launch its largest-ever mission to India along with the President's visit. We are enlisting small- and medium-enterprises from across the country into the global supply chain, so that we can explore possibilities for them in India.
Will the US-India Framework Agreement signed last month help set this agenda in motion?
Absolutely. We were delighted at the signing of this agreement. We are all moving in the right direction. We believe this trip is going to be the dawn of a new era in US-India relations.