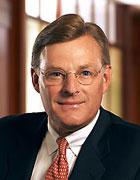 Harold 'Terry' McGraw, chairman, president and chief executive officer, McGraw-Hill companies, has taken over the helm of the United States-India Business Council, succeeding Indra Nooyi, chairman and CEO, PepsiCo.
Nooyi was the USIBC's first woman chairperson. McGraw has pledged to maintain the high standards she set.
"India is a tremendous growth engine for the global economy, and a strong US-India partnership will continue to generate benefits for both nations," McGraw said.
He spoke of US-India trade doubling in the past three years and predicted that 'additional growth' was a no-brainer.
Standard and Poor's, McGraw Hill's financial research and analysis division, predicted that while other parts of the world continue to suffer from the global economic recession, India would grow 7.7 per cent in 2010 and 8.3 per cent in 2011.
McGraw said his top priorities would be to continue to "focus on four key areas that build on the strong foundation set by Indra and the USIBC Board - trade and job creation, infrastructure improvements, technology sharing, and inclusive economic growth for our two societies."
"We see tremendous opportunities for companies in our two countries to collaborate, and view President Barack Obama's upcoming visit to India as a chance to move ahead on a vigorous trade agenda," he said.
He looks forward 'to working with business leaders and policymakers here and in India to strengthen relationships and establish partnerships that will help drive long-term growth and prosperity.'
McGraw said Nooyi's contributions to the USIBC and US-India relations had "enhanced the cultural understanding between our countries and set a high standard."
During Nooyi's tenure, PepsiCo pledged over $500 million in investment to expand its businesses in India. The USIBC also experienced unprecedented growth during her tenure, which it said "was driven by an enhanced commitment to membership service and the launch of new US-IBC initiatives, including the Green India Initiative, the Coalition for Healthy India and US-IBC's Education Initiative."
Nooyi said, "As US-India relations continue to grow and develop, the USIBC is fortunate to have a leader of Terry's background, vision, and enthusiasm."
Ron Somers, president, USIBC said, "Terry has proven to be an effective advocate of international business issues and American engagement in the global economy. He has an outstanding track record as a business leader and his company has a long history in India that will help us realize the exciting opportunities associated with our two dynamic economies."
McGraw-Hill's India connection
McGraw-Hill established business operations in India 40 years ago. India is its fourth largest market.
In March, McGraw traveled to India to deepen the firm's relationship with customers, partners, employees and policymakers and reinforce the company's partnership with Crisil, India's leading ratings, research and risk and policy advisory company.
McGraw and Ratan Tata, chairman, Tata Group, have announced new professional training courses to support workforce development - a $1.6 billion market in India, growing more than 20 per cent annually.