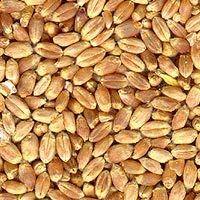 If the government takes a progressive view and the industry co-operates for arriving at a pricing mechanism, it will be a win-win for all, Raju Barwale, managing director of Mahyco (Maharashtra Hybrid Seeds Company Ltd), tells Dilip Kumar Jha.
Edited excerpts:
Despite several companies working to provide high-yield seeds to farmers at affordable rates, the demand for such seeds surpasses supply during the sowing season.
Quality seeds can be divided into two categories -- improved hybrids, which the industry has been successful in providing in adequate quantities, and conventional open pollinated seeds.
These are controlled by the quality specifications provided in the seeds Act. The seed industry has become very focused on quality, as a brand is built over the years. The farmers recognise this.
There is, in general, no shortage of seeds in the market today, as production and supply have improved over the years. A few companies offer seeds of open pollinated varieties in limited quantities in certain markets as more and more farmers are using hybrid and improved seeds.
However, it is true that high-yielding seeds of experimental hybrids and varieties, introduced on an experimental basis, are available in limited quantities.
Why do prices of one variety differ between two talukas?

The industry is working with the government to provide seeds in a cost-effective manner that is mutually beneficial.
This mechanism is based on the costs incurred on research and development, etc, plus the potential for generating additional income for the farmer due to increased yields after sowing such seeds.
For example, if a hybrid tomato is grown, a farmer can harvest 40 tonnes per hectare as against 20 tonnes with conventional seeds. The seed industry worldwide shares the additional income.
The government has taken note of our suggestions on the price mechanism and we are confident it will implement our recommendations, which will help in growth of the seed industry.
The price of the Bt cotton seed has remained constant for the past four years despite the minimum support price increasing by 30-odd per cent.
In our view, it will be good if seed prices are determined by market forces, as it will not only help farmers but also the industry and other stakeholders.
This will encourage healthy competition and more quality seeds could become available in a cost-effective manner.
The entry of new players has widened the scope of seeds for farmers. Today, farmers have multiple options to get seeds of their choice.
About 20-30 players in the industry create new products to benefit the farmers.
The government is of the view that the free market economy must prevail and farmers must get access to high-yielding quality seeds at affordable prices.
Prices at the taluka level may vary due to availability and costs involved in getting the seeds to the selling points.
Does the price differ due to difference in genetics, transportation cost or scarcity in a particular area?
Seed prices differ due to genetics. The industry, as it evolved with hybrids in crops like sorghum, bajra and cotton, has seen prices change with the shift from open pollinated varieties to hybrids. Hybrid adoption in these crops was strongly driven by the government.
Private participation has increased significantly over the past 20-25 years.
Therefore, production and distribution of seeds expanded to include the private sector, after being initially limited to public sector companies like National Seed Corporation, state seed corporations and state universities that were breeding hybrid seeds.
Maharashtra was the first state where the foundation seeds of public-bred hybrids were made available to private companies for production of hybrid seeds for supplies to the farmers.
Thus, the state government's decision to move to a market mechanism changed the scenario of hybrid seed availability to farmers overnight and the prices were left to be determined by market forces.
Which are the new seeds and traits that Mahyco is currently working on?
Mahyco has a state-of-the art R&D centre near Jalna (Maharashtra), with over 200 scientists engaged in cutting-edge research.
We are producing and marketing 115 products in 30 crop species -- cereals, oilseeds, fibre, oilseeds and vegetables. Mahyco is committed to serve the Indian farmer with technologies for insect tolerance, herbicide tolerance, drought and salinity tolerance and nutrient-use efficiency in key crops.
Traits like nutrient-use efficiency help in substantial yield improvement with minimum inputs. Nitrogen fertilisers are used universally in agriculture to improve yields.
However, nitrogen is one of the most costly agricultural inputs in terms of expense to the farmer and adverse environmental impact.
Engineering plants to be more nutrient-efficient decreases both farmers' cost and the adverse environmental impact of nutrient applications.
In collaboration with technology developers, Mahyco is evaluating genes for increased nitrogen uptake efficiency in key crops.
Also, Mahyco is working to develop resistance to UG 99, a rust-causing fungus, so that resistant strains of wheat to UG 99 rust are available to the Indian farmer.
What about oilseeds?
Seed companies in India can participate to improve production of oilseeds if more favourable commodity prices are available to the farmer.
We tried this through the technology mission on oilseeds, where hybrid sunflower seeds were popularised along with remunerative commodity prices, and succeeded. There is no reason why the same cannot be repeated with the right policy.