As the RBI governor between 1997 and 2004, Bimal Jalan ensured stability during the Asian economic crisis and countered the effects of a drought. Now, as the head of a committee set up by the Securities and Exchange Board of India to suggest a way forward for stock exchanges and other market infrastructure companies, he aims to submit the report within a few months. In an interview with Business Standard, Jalan, who has also been a member of the Rajya Sabha, speaks on a wide range of issues concerning the markets. Excerpts: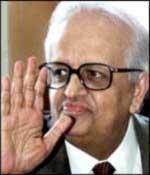 Can you give any deadline by when the report will be submitted to Sebi? What issues have you dealt with?
The committee has already met twice. Although no specific date for the release of the report has been fixed, hopefully, it will be out over the next two months. There are a lot of legacy issues in terms of the working of stock exchanges and market infrastructure companies that we are looking into. We will make sure there is effective regulation and freedom at the same time. Regulations should not curb efficiency of market intermediaries to deliver.
Also, other things like accountability are part of the terms of reference of the committee, but we are not specifically directed towards that. There is a consultative sub-committee under Sebi's whole-time member K M Abraham, which has gathered views from market players or stakeholders, including market infrastructure companies like Central Depository Services Ltd and the National Depository Services Ltd.
What studies have you undertaken till now?
There are two parts to the study. One is the academic part and the second is the empirical part, which includes a research of the capital market models followed by different countries around the world. We referred to the Organization for Economic Cooperation and Development's report on industrial competitiveness and trade.
We also referred to the Public Financial Management Performance Assessment report by the National Institute of Public Finance and Policy, as well as other reports and reviews on stock exchanges by the World Federation of Exchanges, a body formed by all major exchanges around the world.
Moreover, the consultation process of market players and financial market intermediaries will be vital. It has been done on wide-ranging issues as there is no specific or unique model or one view that we have followed. Surely, all views have been taken into account, so that the outcome is constructive.
Market penetration has been ridiculously low. What is the way forward for more capital inclusion?
The most important function of capital markets is to bring financial stability with growth. Financial inclusion should be done in a way that will transform the informal economy into a formal one, lead to development of the entire system and increase penetration.
If you look at small towns, we do have many regional exchanges, but they are not functioning. This could be partly addressed after the implementation of electronic trading.
Penetration is less as the number of exchanges is not too high. Growth should happen. So, you will see more exchanges coming up, but they should be regulated in a way that is transparent, accountable and responsible for delivering results.
Growth in terms of technology is taking place, but it is not too widespread as a large number of population does not have access to it. The Reserve Bank of India is doing a fair job on expansion.
Also, life insurance coverage is widening, but it still requires more focus along with other basic things like mutual funds. Additionally, there have been talks of mobile banking, but it is yet to pick up in a major way and I'm sure banks will still penetrate further into the agriculture sector and rural areas. All this requires a developed capital market. So, there is a long way to go.
The recent controversy over Ulips yet again highlighted regulatory arbitrage. What is your perception? Is there a case for a super regulator?
Sebi has been doing a good job. Unit-linked insurance plans are emerging products and any new product or growth process will have some issues, but there is nothing negative or pessimistic about it.
Fortunately, we are more deliberative and so we are protected. Like the West, we have not jumped onto the bandwagon. We are learning during the process, while the US and Europe are undergoing transformation only after the mess.
Having a single regulator as a super regulator is no longer on the agenda of global economy. It is not the solution. The US and Europe are thinking of something different.
The Financial Services Authority of UK has been abolished and US, too, is looking for a regulatory overhaul.