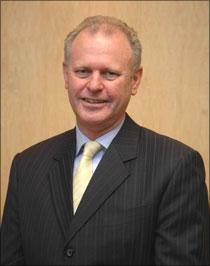 Michael Boneham, the president and managing director at Ford India, has been in the automotive industry for more than 24 years. He has been instrumental in steering the company to scale new heights.
In this exclusive interview with rediff.com, he talks about Ford's small car Figo, the company's future plans and the Indian automobile sector in general.
It has been more than a decade for Ford in India. How has the journey been so far? Are you happy and satisfied?
Of course, I am. Especially about Figo, we are very happy. We couldn't be happier with the level of orders we have for Figo and also the reactions from the customers, the media and the public, in general, to the vehicle.
The biggest problem at the moment is capacity but that is a good problem to have; one that I will get ahead of soon.
It has been a long journey if you look at the fact that Ford has been a part of the Indian manufacturing revolution. We have been the first to come here after the government opened up for MNCs.
If we look back and reflect, we did very well in the segments we were competing in, but those segments were relatively small segments here in India. We needed to launch a vehicle into the small car segment.
When did you realise that the small car segment is the biggest in India?
I think we knew that all the time. It was not a question of not realising when we wanted to enter that segment. We took that decision 3-4 years ago.
But we needed time to set up our capacity to develop and engineer the product. And we launched it this year.
We made a $500-million investment, two and a half years ago. Prior to that, we were working on the development of the small car, Figo. We knew we had to get into this segment from the investment point of view and product point of view as we wanted to bring in the right product to the segment.
By the time you entered the small car segment, so many other players had entered and it had become crowded. Are you worried?
No. That is because the small car segment continues to grow month over month, year over year. Net growth is supporting the number of new entrants in the segment including Figo as well as the established players who are in the segment for a long time -- like Maruti and Hyundai.
If you look at the volumes, we have quickly established ourselves to 6,000-7,000 units a month and that has not had a significant impact on the overall segment by dragging units from other manufacturers.
What is happening is that the small car segment is growing as the economic demography in India is growing so quickly. People want to move from two-wheelers to four-wheelers and want to show that they have made it in the eyes of their friends and relatives. This segment has a lot of potential for more growth.
How much do you expect the small car segment to grow?
We expect the segment to grow by 20% year over year. That is the growth that is sustainable. I expect double-digit growth for the next 4-5 years. Then, you have to wait and see what the double-digit growth is: whether it is 10-15% or 15-20% or beyond that. . . it depends on a number of other factors.
But I am quite confident that we will see substantial double-digit growth in that segment. To be frank, all other segments in the automobile industry in India are also growing. That is good news for manufacturers and customers because they are getting much more choice now.
Last year, the auto sector in India grew by 24% when there was recession all around the world. Was it surprising?
If you look at the last year, we have to look at it as two halves. The first-half growth was not that significant because everyone was very cautious and worried.
All of a sudden in the second half, from July onwards, the growth was huge and that gave the average of 24%. So, the second-half growth was much more than 24%.
This took everyone by surprise and that is why we have this ongoing capacity constraint right through in the industry. Every manufacturer and supplier had kept his inventory level down. People had been a little conservative with investment. Hence the rapid turn around in growth took everyone by surprise.
Free demand, I think is higher than what we are seeing in terms of growth.
What is holding us back is supply capacity. What we are doing to address the capacity constraint is that we are moving to two shifts from July from a single shift of seven days. However, we got to make sure that our supplier base can support the significant increase in the production.
As far as Figo is concerned, is Ford looking at only the Indian domestic market or overseas market too?
The Ford story is not about supporting the domestic market, but overseas too. I am excited. In the very near future, we will be sending the first load of Figos to South Africa. That is the first overseas market.
In the next 3-4 weeks, we will announce the names of other markets where Figo will be going. They are mainly in the Asia Pacific and Africa region and a couple of other areas as well.
Our strategy is to have a balanced situation where you have a strong domestic demand supported by strong exports demand. Then, if you have issues in one market, you will not have problems as it will be compensated by another market.
What percentage of your production will be for the domestic market and how much for exports?
This year, the domestic market will be dominant because we are planning to export late in the year. Almost 80% of this year's production will be for the domestic market.
Beyond that, we are not going to make any predictions because we will get the clear view of the export market only later. The exports will depend on how the customers react to the product.
Bookings for Figo are said to be unprecedented. How do you feel about it?
It is a nice feeling. We were hoping that we will get a positive reaction from the customers. You never know. We are very, very happy with the way customers have reacted to the Figo.
I am delighted! We have sold 17,000 Figos from the time we launched it in March.
You spoke of exporting to the Asia-Pacific and Africa region. Do you feel the European and the American markets have stagnated?
Europe is in a difficult situation with the concerns about Euro and so on. However, Ford continues to do well in the United States. In the last 20 months, we have increased the market share and volume.
We were the only local manufacturer that did not accept aid from the US government. We have $2.3 billion profit in the first quarter as a company after the toughest year ever seen for the motor vehicle industry. Of course, we have a global platform strategy.
Which country do you see as the largest market for motor vehicles?
China is the largest market. We have got big growth plans for China and also India. We want to be a major player in both these markets.
Which is the untapped market in the world right now?
I don't think there is an untapped market. The countries in ASEAN (Association of South East Asian Nations) are a high growth area, other than China and India.
If you look at Africa, there is a long way to go in terms of infrastructure and development and the pure capability of purchasing power for vehicles. There are significant opportunities still across the globe other than the mature markets.
In the next decade or two, which country will see the highest growth in the auto sector?
India will be one of the three countries. We see significant growth potential here provided infrastructure keeps up with the opportunity for growth and demand. I don't see any reason why India can't be the fastest growing market globally. But it has a long way to go.
Look at the way China is growing right now. India's total industry is two-and-a-half million now. Even if the growth is 30-40%, it has a long way to go to get up to the level China is on right now. Number of cars per 1,000 people is very low in India. I think there is unbelievable potential here.
How many more vehicles do you expect to see on the Indian roads in next 5-10 years?
We expect the number of vehicles to double by 2015 which is very conservative.
You just look at how long it took to reach 2 million, and how long it will take to reach 4 million! The doubling will take place in half the period. We will see Ford as a major player in India, too.
Will Ford India be concentrating on small cars hereafter?
No. It will be a major part of our strategy. Obviously, you want to be a part of the segment that is 70% but we will have vehicles in other segments as well depending on where we see significant growth.
Image: Michael Boneham, the president and managing director, Ford India.