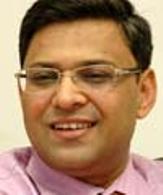 Bank of America Merrill Lynch has been away from the government's disinvestment programme.
With the new guidelines on fees to bankers in place, it could get back to that business, Saurabh Agrawal, managing director and head of investment banking, tells Abhineet Kumar and Sidhartha.
But, even as he is bullish on Indian companies, he warns that investors are looking at valuations very carefully. Edited excerpts:
Multi-billion dollar deals have made a comeback. How is your pipeline?
Every bank on the Street is working on such deals. In all three areas of debt, equity and M&As (mergers and acquisitions), we are seeing record activity. Cross-border M&As is very active. So is cross-border debt. On the equity side, there is a huge pipeline, with mandates of almost $14-15 billion already given. Another pipeline of $10-15 bn is going to come out.
You have never seen this kind of activity. For India, a billion dollars was a big number earlier, but if 10-12 deals of this size are going to be mandated over three to four months, that shows the activity level is at an all-time high, significantly more than 2007.
Will we see a huge level of cross-border deals, especially outbound?
Outbound will be more than inbound and the reason for that is, for inbound, valuations are going up. Valuations overseas are still very decent. If you have a currency where you can raise money at good valuations and you can go and buy assets which are cheaper, why not?
With fund-raising getting simpler, are we seeing a situation where the companies which were under stress are no longer looking for buyers?
Absolutely. Two years ago, there was a lot of stress in the system, when we felt that business groups might have to make choices of the businesses they want to be in. Today, the situation is very different. The capital markets and debt markets have supported and some of the people have been able to capitalise. Almost every group and companies that have done large acquisitions have been able to recapitalise themselves. So, there is much more balance sheet strength to deal with any kind of crisis, in comparison to 2007.
So, these people will now wait for valuations to improve before they look at dilution?
All of them are smart enough. I don't think there is going to be any controlled deal that is going to take place. What we will see is further strengthening of the balance sheet. For instance, at least three airlines are looking to raise equity. People have realised it is important to have a balance sheet stronger than what you need in a normal business environment.
What about sectors such as telecom, where there are so many new players and all of them will need capital to grow?
No market in the world survives with the number of players that we have. Beyond a point, for everyone there is value destruction, instead of value accumulation. The industry will go through its own churn. Consolidation will take place, as I don't think India can afford to have more than four to five operators.
You recently did the GMR qualified institutional placement issue, which faced some problems last year. Are QIPs going to be a big source of fund-raising?
The market has changed. Today, we are no longer in a situation like what happened last May or June, when anything was sold. Now, investors are sitting on the sidelines and they are convinced that, overall, India will do well. But, they want to do their own fundamental analysis before they invest in a company.
If you compare a stock with last year, the valuation is two-and-a-half times or three times. So, to that extent people want to do their homework, people want to be convinced, want to have much more interaction with the management before they decide they want to come.
Today, that whole hedge fund investor bucket has completely gone away. It was playing a momentum game. Today, the people who are buying the stocks are long-term investors.
You have stayed away from the disinvestment programme. Was it because of the fees?
It is very difficult for us to justify paying money for doing business. We didn't go and quote at the level where we would be losing money. We don't mind doing deals where we break even. Now that the new guidelines give 70 per cent weightage to technical criteria and 30 per cent to the financial parameters, we will be there in the next couple of mandates that come.