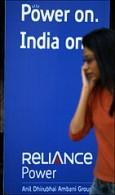 Reliance Power, an Anil Dhirubhai Ambani Group company, is well on course to becoming India's largest private electricity producer, says J P Chalasani, the company's chief executive officer.
In an interview with Sanjay Jog against the backdrop of last week's Supreme Court order on gas supply and pricing, he notes a short-term (five-year) price is not relevant beyond a point when power plants have a life of 15-20 years. Edited excerpts:
What is the future of RNRL (Reliance Natural Resources Ltd)? Don't you think the (last week's) court verdict has turned it into a shell company?
The Supreme Court (SC) has specifically addressed the issue by stating that the consideration for determining a "suitable agreement" must relate to the interest of RNRL, i.e., whether it results in RNRL becoming a shell company. The judgment has further directed RIL (rival, Reliance Industries Ltd, of estranged brother Mukesh Ambani) to renegotiate a suitable gas supply agreement with RNRL. The case of RNRL has been strengthened, post the judgment.
What are your plans regarding implementation of gas-based power plants? Where would the gas come from for your projects?
Reliance Power has plans to set up large capacities of gas-based power plants at various locations, including Dadri (the subject of last week's SC case). The MoU (earlier family agreement between the rival Reliance groups) is clear that gas can be used for all power projects, including Dadri.
The same has been repeated in the minutes of the EGoM (empowered group of ministers, which decided gas allocation policy). Huge demand exists for power in the country.
The development work of all our gas-based projects have been completed and we will start construction of these once the supply arrangements have been negotiated within the time stipulated by the SC.
As you are aware, the government and DGH (the Director-General of Hydrocarbons) had stated that the KG (Krishna-Godavari) Basin itself can produce 120 mscmd of gas. With the SC's final verdict, Reliance Industries can now rapidly ramp up its production for economic development of the country.
With other discoveries, the gas production in India is likely to increase to 300-400 mscmd of natural gas. With the SC now providing clarity, the large natural gas finds of our nation can now be used to contribute towards economic growth and development.
In view of the court order, Reliance Power's landed cost of fuel is expected to be close to $6.5/mBtu in Dadri. Is this likely to lead to high generation cost?
Gas prices are now to be determined by the government, which has currently fixed $4.2/mBtu for five years for existing stranded assets. By the time our plants are set up, this five-year period will be almost complete. Affordable pricing of power will be the key factor, as the national and public interest have to be kept in mind, as in the Supreme Court's judgment. Power plants have a life of 15-20 years and hence this short-term (five-year) price is not fully relevant.
The government has not fixed price of gas beyond five years. The price could be higher or lower. Gas price for the power and fertiliser sectors, that are going to be long-term, large customers of domestic natural gas, is yet to be determined.
The petroleum secretary has also stated that price is a dynamic issue. The pooling concept for gas prices has also been proposed. We believe that various policy issues need to be navigated through before clarity emerges on all these points.
Going ahead, where do you view Reliance Power in the next five years?
We aim to be India's largest private power producer. Reliance Power has over 35,000 Mw of power generation capacity, at different stages of implementation. Over 25,000 Mw of these projects are based on coal and hydro projects.
The key features of our power portfolio are: land is acquired for most of our capacity; our company has access to captive coal mines and hence the fuel security for these projects is certain; the major clearances are in place; construction work has started for all major projects; we have completed the largest debt financing for our Sasan project and other projects are expected to achieve financial closure very soon.
What is now left to renegotiate with RIL? How does it protect the interest of your shareholders?
The court has said the parties must renegotiate and the interests of shareholders of RIL and RNRL must be balanced. The court has also held that the MoU must be taken into account during these renegotiations as a tool for interpretation of the scheme.
The negotiations will have to be in line with the production sharing contract, as well as government policies. The verdict has given eight weeks for both parties to renegotiate. The gas supply agreement involves complex matters.