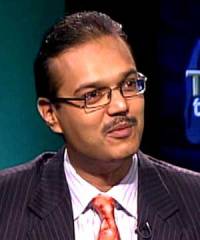 The current crisis in the euro zone will not create any major problems for India, but a 10-15 per cent correction in markets is not ruled out if it worsens, says Ridham Desai, managing director and head of equities at Morgan Stanley India.
In an interview with Vandana, he says India will outperform emerging markets. Excerpts:
The global picture is not looking great with concerns over euro zone economies. How do you see it panning out?
Clearly, there is an issue in Europe. However, there is a belief that policymakers will address that.
Markets are hopeful that some resolution will come out.
Currently, we don't see any problems with India as such.
If the crisis deepens, there will be a downside risk to India. India has so far been resilient and its markets have outperformed those in emerging economies because of a combination of factors including growth, strong policy response, a move towards fiscal consolidation, strong proceeds from the 3G auction and healthy corporate balance-sheets.
But, there could be a massive sell-off if the crisis worsens.
There will continue to be heightened volatility in markets in the short term. By the end of this year, we expect markets to be up by 10-15 per cent.
Last week, there was an outflow from Asia ex-Japan funds. Do you see more pullout and what is the sense you are getting from institutional investors regarding India?
Investors are generally positive on India because of the long-term growth potential.
However, the risk on trade is still there. Investors are holding on and looking at how Europe fares. So, it is more of a wait-and-watch stand for investors now.
As a research house, we have raised growth forecast for all regions.
We have not yet cut the forecasts and that will depend on what happens to the global recovery. It is still early days for the crisis and we are nowhere close to the downturn of 2008.
On a relative basis, India will outperform emerging markets, but a 10-15 per cent correction is not ruled out if the European crisis worsens.
How are valuations looking at the moment?
Valuations are okay. They are neither too attractive nor too rich. India is trading around 14 times one-year forward on our estimates.
It is at a premium of about 20 per cent to emerging markets, which is close to a three-year low. So, while absolute valuations look middling, relative valuations are attractive.
We think India deserves a premium P/E (price to earnings) due to higher ROE (return on equity) and lower cyclicality in earnings.
What are the broad themes according to you that will play out this year?
We are bullish on industrials and financials and underweight on materials and technology. Domestic sectors will likely outperform global sectors and the ongoing problems in Europe may make this trade even stronger.
We expect India's growth to be well ahead of the global growth, the start of new capex (capital expenditure) cycle in the coming months and strong loan growth.


How do you see corporate earnings? Which are the sectors that surprised you on a negative side?
Earnings have been ahead of expectations and we expect this to continue. The caveat is from turbulence in the western world which could severely undermine growth.
We expect 25-30 per cent growth in corporate earnings for the broader market.

Low-base effect is getting reflected and hence growth will slow down for the next quarter (July-September). For the current quarter (April-June), results from telecom and staples have not been particularly good.
Image: Ridham Desai