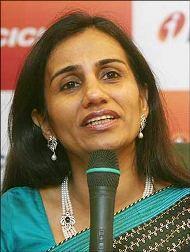 The country's largest private sector lender ICICI Bank on Thursday said lending rates will start going up any time now, quite contrary to the SBI chairman's projection that borrowers can breathe easy till Diwali.
"I really believe that interest rates are not going to go down from here. Gradually they would go up. When?...would really depend on how fast the credit growth takes place", ICICI Bank CEO and managing director Chanda Kochhar told PTI.
Her statement comes a day after SBI Chairman O P Bhatt said that rates would not rise till Diwali and may even soften by 25-50 basis points before the busy season in October.
In April, ICICI Bank was the first to reduce lending and deposit rates by 50 basis points after announcement of the annual credit policy by the Reserve Bank of India.
Replying to questions on impact of the large government borrowing on the financial system, Kochhar said, "The amount is large. I don't think that amount is small. It does have its own impact on interest rates and financial system... I am sure there is a thought behind it."
In order to step up expenditure to stimulate the economy reeling under the impact of the global financial meltdown, the government decided to raise Rs 4.51 lakh crore through market borrowings this fiscal, up from Rs 3.1 lakh crore in 2008-09.
Expressing concern over the high government borrowing, Reserve Bank Governor D Subbarao had recently said that it was impairing the ability of the central bank to further lower the interest rates through monetary measures.
© Copyright 2021 PTI. All rights reserved. Republication or redistribution of PTI content, including by framing or similar means, is expressly prohibited without the prior written consent.