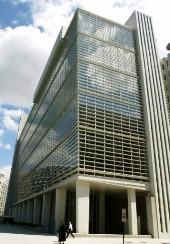 The World Bank is expected to increase its lending to India by over three times to $7 billion in 2009-10 compared to the average $2.3 billion for the last four financial years.
"The average commitment during the last four financial years from the World Bank has been approximately $2.3 billion. However, in the current year, the commitments are expected to reach about $7 billion," said an official statement, issued after the multilateral agency President Robert Zoellick met finance minister Pranab Mukherjee on Wednesday.
The current World Bank portfolio in India consists of 68 projects with a total commitment of $19.57 billion, the statement said.
India is the largest borrower of the World Bank. Mukherjee appreciated the World Bank for its increased lending in the wake of the world financial crisis.
At the meeting, Zoellick sought Indias support in widening the capital base of the World Bank so that it could appropriately meet the needs of developmental finance.
The request came after India agreed to invest 10 billion dollars from its reserves to supplement the IMF resources. Mukherjee said India has been at the forefront of providing greater capital support to all the multilateral development institutions and had supported a 200 per cent capital increase for the Asian Development Bank.
Mukherjee hoped the voice of emerging and developing countries would be increased in the World Bank. According to the statement, the finance minister said he is looking forward to an expeditious completion of the reform process in the bank giving greater voice to and raising the quota of developing countries.
Earlier, G-20 nations had decided to increase emerging nations share at the World Bank by at least 3 percentage points.