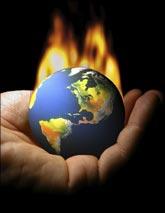 The Federation of Indian Chambers of Commerce and Industry expressed alarm over reports that India might shift its stance on the issue of climate change at the Copenhagen summit.
In an open letter to Prime Minister Manmohan Singh and to Union Commerce Minister Anand Sharma, the industry body has outlined its views on the climate change negotiations based on corporate India's feedback and called for the prime minister to urge the developed world to provide technology transfer and funds to help mitigate the crisis.
Following is the text of the letter:
Dr Manmohan Singh
Hon'ble Prime Minister of India
Govt. of India
New Delhi
We are alarmed by the media reports that the government may change its stance on the principle that emissions of all countries should converge on a per capita basis.
We strongly suggest that per capita emissions should remain the basis for greenhouse gas emissions reduction, as reiterated by you at the inauguration of the Delhi High Level Conference on Climate Change Technology Development and Transfer.
It is important that India and other developing economies push for a climate change regime that has convergence of greenhouse gas emission on equal per capita basis world-wide.
FICCI's perspective on the current negotiations based on Indian industry's feedback and the outcomes that industry expects from Copenhagen are as follows:
1. Industry does not support any outcome for India that is based on legally binding emission reduction targets.
2. We will not accept sectoral benchmarks or targets at a globally harmonised level as such targets would adversely affect the competitiveness of Indian industry.
3. We strongly oppose any proposal on unilateral trade measures imposed by developed countries on the climate change pretext.
4. We expect Copenhagen to deliver outcomes that would provide a direction to the continuity to the Kyoto Protocol and the strengthening of the market based mechanisms.
5. We also seek regulatory certainty for the carbon market to provide a clear-cut long-term market signal to businesses and investors.
6. We urge you to seek an assurance from developed countries to provide a stable demand for carbon credits through their domestic policies on import of carbon credits to meet their emission reduction targets.
7. Finally, the Indian industry strongly urges that the government push for commitments from the developed world on technology transfer and finance to meet the objectives of greenhouse gas mitigation as well as adaptation to climate change.
Looking at the medium-term and long-term implications of not basing the Indian standpoint on per capita emissions, we appeal to you to take the concerns and expectations of Indian industry into consideration for the forthcoming negotiations and strongly urge the government to continue to position its stance on the per capita theory.
With personal regards,
Yours sincerely,
Harsh Pati Singhania
President, FICCI